Portrait of Shianne and Wally
In the weeks leading into the photo shoot, I became inspired by lyrical photographs that contained a woman and a horse, both wearing floral crowns. Now mind you, I don't have a lot of experience working with flowers but I felt strongly compelled to feature floral crowns with some of the wardrobe changes. My sister simply stated that if I was going to make floral crowns for the girls, then I should for the horses, too. So that was that. I got to work making a myriad of flower crowns for all.
Fortunately, by the stroke of luck, I hit the timing just right at Michaels craft store. They were having a 70% off sale on all summer florals, plus I had a coupon for an additional 20% off the entire purchase. Wahoo! I figured that was surely a sign from the universe that I was making the correct decision, she says tongue firmly in cheek.
Even when it seemed as if I had purchased half the floral department, I needed to return to purchase more of some items. In other words, I completely over-killed the project, but it was fun and I learned a lot in a short time about making floral crowns thanks to YouTube and through learning by doing.
As you can see, I went for statement pieces. Go big or go home as the saying goes. What I was particularly pleased about was that the floral pieces for the horse were perfectly sized even though I totally winged it. Beginner's luck. Wally was disappointed to discover that the flowers were artificial and didn't taste good at all. He only tried to eat a flower crown once.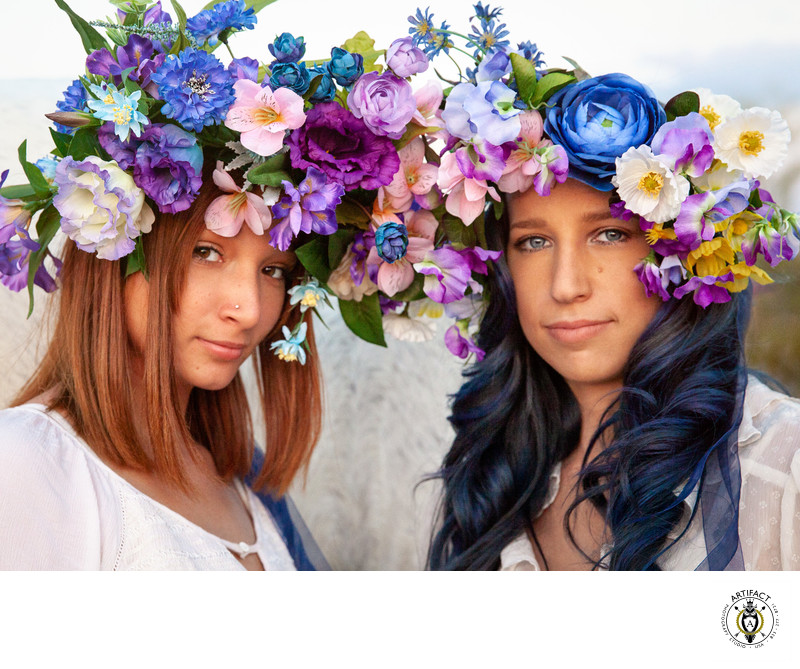 The above portrait of Faith and Shianne was captured during golden hour just before the sun dipped behind the horizon.
Session Details: Agape Acres Therapeutic Riding Center located in Marana, Arizona | Natural Light
Florals designed and made by me, Michelle Beaumont Owens
Location: Marana, Arizona.