The Queen of Clubs | Rebecca
It's not uncommon for photographers to undertake creative projects to keep the creative juices flowing. At the time I was watching The Crown on Netflix which compelled me to do research on Queen Elizabeth II and her family. As the oldest living monarch in British history, I find the Queen a very interesting woman. She ascended the throne on February 6, 1952.
I particularly appreciate the Queen's royal portraits and I have enjoyed comparing and contrasting her portraiture over the 67 years that she has reigned. I adore the crowns, emblems, scepter, and other regalia that she wears for formal occasions.
Somehow, one thing led to another, and I mashed my interest in royalty with the Queens of playing cards. I thought how fun it might be to photograph the Queen of Clubs, Diamonds, Hearts and Spades. Plus a Joker thrown in for good measure.
When Rebecca and I started working on the artistic influences for this portrait, it was she who suggested using Queen Elizabeth I, not II, for the inspiration board, which took us back to the mid-to-late 1500s for reference material. I was so inspired that I made the pearl crown, textured club and feathered whisk collar.
Though the sex to which I belong is considered weak you will nevertheless
find me a rock that bends to no wind. | Elizabeth I of England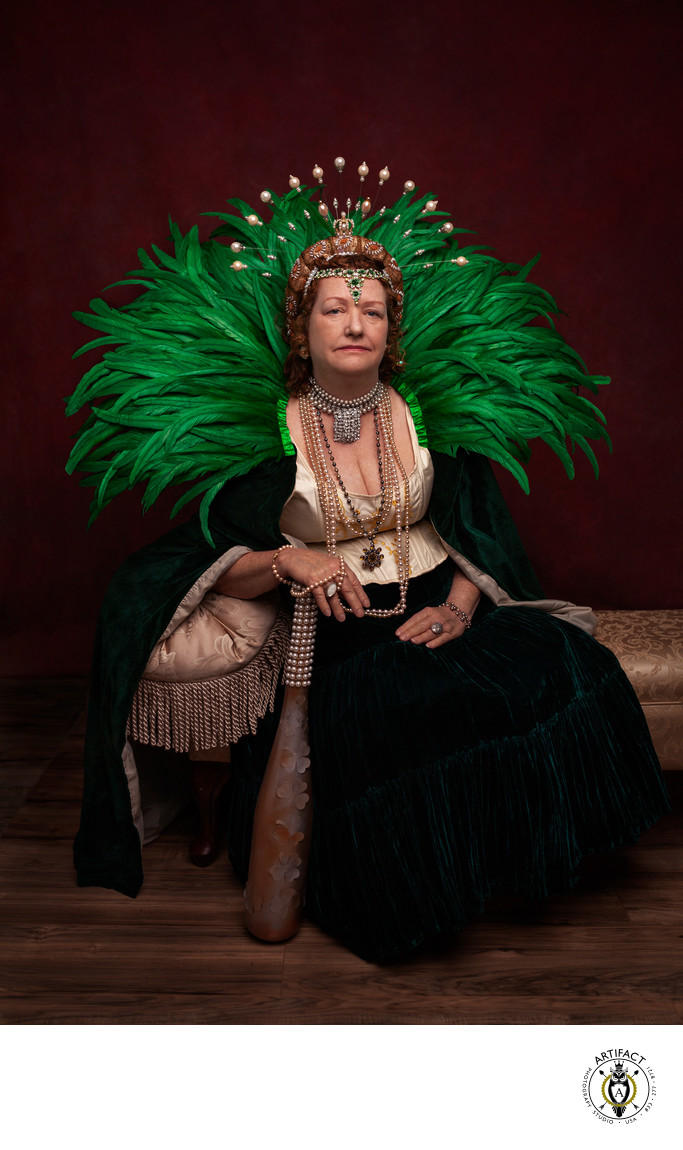 Session Details: Red muslin background | Studio Lighting
Thank you to Ronna Bagnardi for capturing behind the scenes video and lending assistance during the photo shoot when needed. The whisk collar is one pesky accessory.
Make-up and hair: Rebecca Kososkie
Studio Wardrobe, crown and props. The jewelry is a mix of Rebecca's and mine.
Location: Tucson, Arizona.