Andrea | Under the Outdoor Canopy with Fabrics
Initially the outdoor canopy was set-up to capture personal branding images of Marana Chamber Committee Chairs to commemorate their year of service to the community. This set-up was devised so that each committee chair could be photographed outdoors following Covid-19 safety protocols. It didn't take long for me to start devising more ways to use this set-up.
Weather permitting, at the end of a creative portrait photoshoot, I like to photograph my client in the flowing fabrics. My backyard sits atop a hill and the afternoon gusts of wind catch the sheer fabrics and the effect is quite beautiful. I also like this set-up because my clients laugh frequently when the fabrics wrap around their bodies or blow across their faces. We're never quite sure what's going to happen next between the sun, clouds and wind. It's unpredictable and fun and I'm able to capture spontaneous portraits that my clients adore.
This set-up looks best when the client wears a light or pastel color. Andrea prefers dark colors in her personal wardrobe so I was on the lookout for a dress or a shirt that she could wear for this set. I happened upon this Forever 21 retro styled shirt dress at the Goodwill. Andrea just happened to bring the neutral bralette so the look came together collaboratively for a vintage inspired vibe.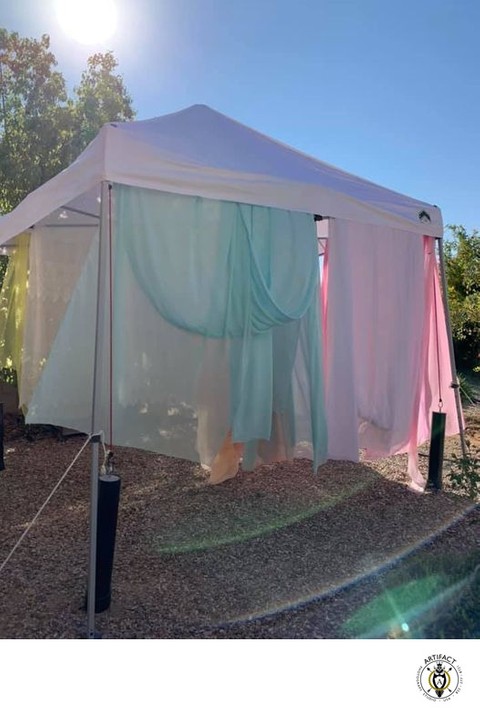 Session Details:
Mobile canopy decorated with sheer fabrics | Natural Light
Hair and Makeup: Andrea Pedersen | Instagram: avped
Studio wardrobe
Location: Tucson, Arizona.