The Three Graces | Marlena, Delia and Miranda
The three goddesses in Greek mythology that represent grace/elegance, charm/mirth and youth/beauty are collectively known as Charites. In Roman mythology they were known as the Gratiae. More commonly the three lovely ladies, whom are sisters, are called The Three Graces.
During one of our conversations Miranda, Delia and Marlena's mother, Dawn referred to her daughters as The Three Graces. With her reference I was suddenly transported back to my youth. I grew up within a couple hours driving distance of Hearst Castle located in San Simeon near San Luis Obispo on the central coast of California.
Hearst Castle has a replica of the The Three Graces statue on display outside on the Esplanade in a park setting. The original statue was carved by Antonio Canova in the early 1800s and is housed in The Hermitage Museum in St. Petersburg, Russia. A second copy that was also carved by the sculptor is on display at the Victoria and Albert Museum in London. I was so taken with the statue at Hearst Castle that I photographed it and had the framed image displayed in my home for ages.
The Three Graces are depicted in an intimate embrace, which I wanted to replicate for this loving sisters portrait. Dawn chose this image to enlarge for Wall Art. During our consultation, Dawn specifically asked for a close-up of the girls so she could easily see their expressive faces from across a room. Mission accomplished! These three sisters, representing The Three Graces, are the incarnation of beauty.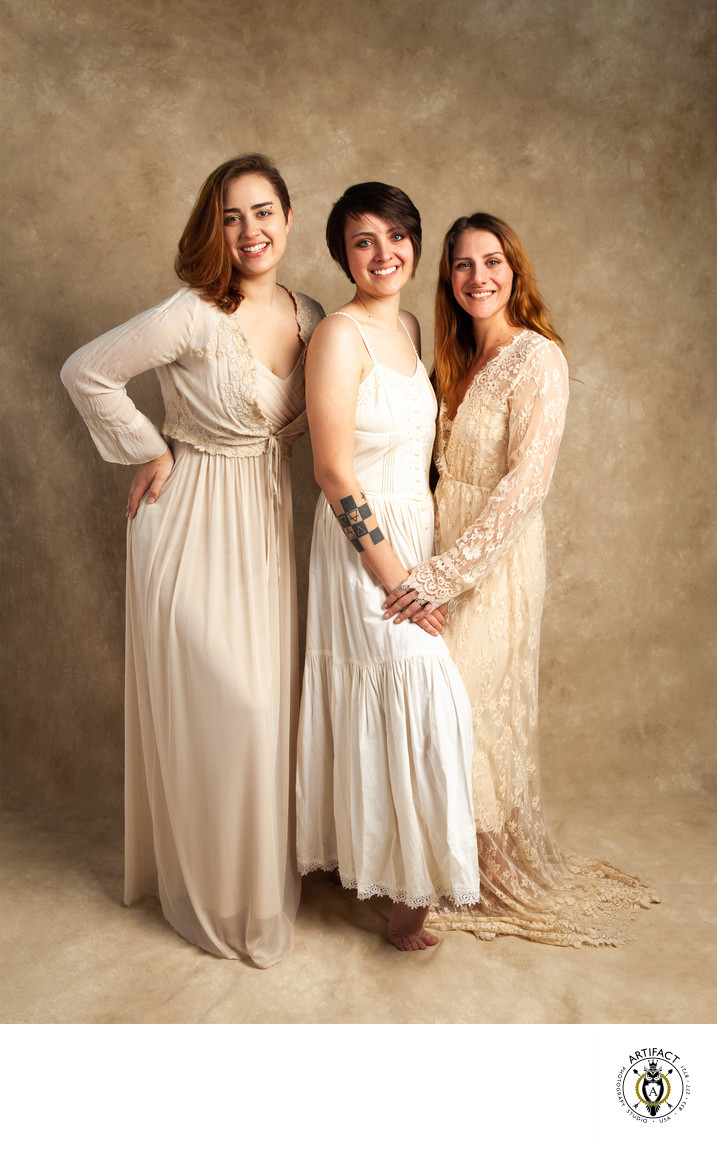 Session details: Hand painted muslin background | Natural Light and Studio Lighting
Studio wardrobe
Location: Tucson, Arizona.