John William Waterhouse Inspired Portrait | Lauren
'I am half sick of shadows', said The Lady of Shalott. | Alfred, Lord Tennyson
The theme of this photoshoot was inspired by the Victorian-era English painter, John William Waterhouse. Waterhouse painted strong female figures, often from literary works. He painted William Shakespear's character, Ophelia from Hamlet, multiple times. In the paintings Ophelia wears medieval gowns featuring open necklines, long flared sleeves, a fitted drop point waist and gold embellishments. She is always adorned with flowers, often with the blooms entwined in her hair.
In addition to Ophelia, The Lady of Shallot was also a favorite subject of the painter. The Lady of Shallot is a doomed character in the poem penned by Alfred, Lord Tennyson in 1832. In the Arthurian Legend, Lady Shallot dies over her unrequited love for Sir Lancelot. The famous painting is on display at Tate Britain, London. When I asked Lauren how she wanted to be photographed, she shared with me this painting. I knew it well and was instantly excited by the prospect of channeling Waterhouse's style in a contemporary glamour portrait.
I really admire Waterhouse's paintings because there is a palpable sense of emotion captured in his brush strokes. For Lauren's session I assembled a story board of Waterhouse's paintings and examined the visual imagery for inspiration. My goal was to infuse Lauren's images similarly to Waterhouse's romantic depictions of his subjects.
Session Details:
Carved wood folding screen | Natural Light
Lauren is a beauty representative for EVER Skincare. She styled her own hair and applied her make-up.
The velvet top and cape are part of the studio's wardrobe collection.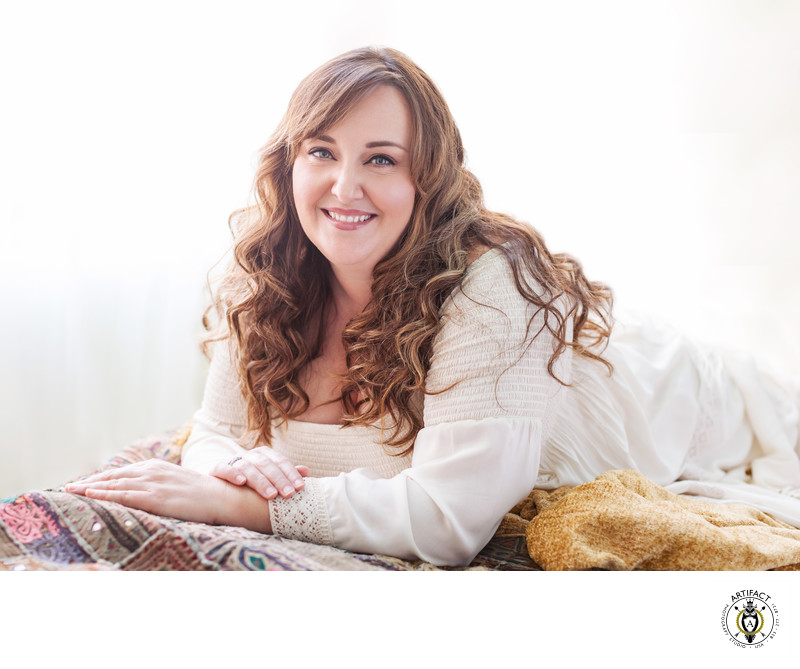 Location: Tucson, Arizona .