Field of Flowers Portrait | Kayla
Ideally, in a perfect world, I prefer to meet with a client before a photoshoot so we can begin to get to know each other and collaboratively form a plan. Styling is a key ingredient to a photoshoot as it lays the foundation for the types of images we want to capture. After we identify wardrobe it is much easier to select backdrops and plan lighting to capture the right mood for each set of images.
Their dad had clandestinely formed a plan with his kids of surprising Kayla and Nate's mother with a folio of photographs for Mother's Day. #bestdadever
Between the brother and sister's school and extra-curricular activities, I was not able to meet with Kayla or her brother before the photoshoot. But, their dad and I made a plan to ensure that the photoshoot went smoothly.
Kayla reviewed my portfolio of images online ahead of the photoshoot and advised that the field of flower images were her favorite. Equipped with this information I set-up the "field of flowers" backdrop on the floor before their arrival. This set-up takes hundreds of flowers, which I have been collecting for years, and it takes a bit of time to arrange properly.
I then culled through the studio's extensive collection of dresses to have a grouping that Kayla could try on when she arrived for the photoshoot. The pink dress that she is wearing was her favorite and fit her perfectly. It was a beautiful sunny morning in Tucson so I was able to capture this image with natural light from the big bay window. The result is a dreamy storybook portrait that delighted both her mother and dad.
If a photographer cares about the people before the lens and is compassionate, much is given. It is the photographer, not the camera, that is the instrument. | Eve Arnold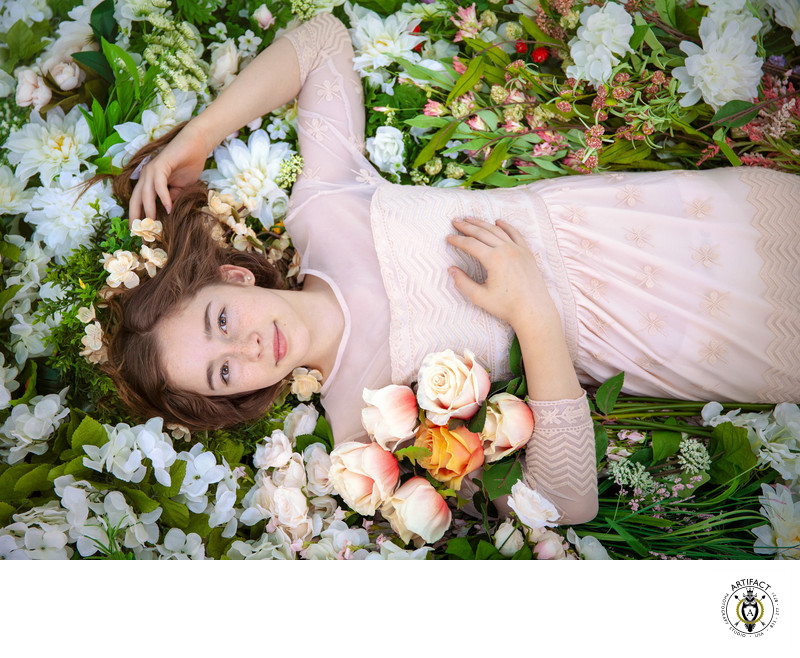 Session Details: A field of faux flowers as background | Natural light
Studio wardrobe and accessories
Location: Tucson, Arizona.