Couples Portrait Session | Canna and Franklin
I really like this set-up of a black background and dark clothing to capture color photographs that can easily be converted into black and white images. In particular I like gutsy, contrasty black and white images that really pop.
We only had a short amount of time to play in the studio for this couples session. Even with a compressed timeline Canna was able to switch outfits multiples times and the couple posed with and without their glasses.
Glare on glasses can be problematic. Generally I can work with both natural light and strobes to bounce the light to avoid undesirable reflections in glasses. It can, of course, be more difficult if there are more than one pair of glasses in the photo. And, some glasses are worse than others depending if the glass has coatings that can cast a watercolor swirl of green and purple across the surface.
If you wear glasses, no worriess! We'll work through it. Occasionally I do have a client who prefers to have portraits without glasses even though his or her glasses are worn everyday. It's up to you how you want to be photographed. You choose whether glasses are part of your portrait or not.
Session Details:
Black Foamcore Background | Natural Light
The black dress is part of the studio's wardrobe collection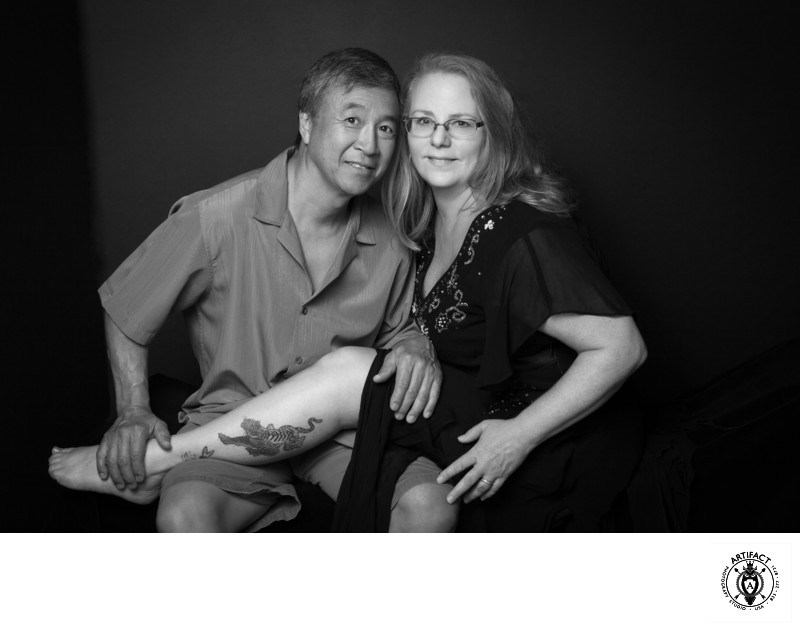 Location: Tucson, Arizona.