Mermaid Creative Portrait | Lauren
One of my most prized possessions is a carved mermaid that is usually found hanging from my neck on a simple leather cord. She was carved by Reva Myers Shemanski, a talented artist in multiple mediums, who made Bisbee her home until her untimely death in 2019.
I've been a fan of mermaids long before Disney released the film, The Little Mermaid in 1989. I grew up in Solvang, a small central coast town in California. The town was founded in 1911 by Danish immigrants, although, to be fair, The Old Mission Santa Inés was there first. The mission was founded in 1804 by the Franciscans and is number 19 of the original 21 California Missions.
Solvang celebrates all things of the Little Mermaid's author, Hans Christian Andersen with a park, museum and a fountain that features a bronze statue of the Little Mermaid, in seated repose. The statue is a half-size bronze replica of the famous statue in Copenhagen's harbor. During my lifetime I have probably passed by this fountain thousands of times, which is located at the corner of Mission Drive and Alisal Road.
One of my favorite paintings is A Mermaid, completed in 1900, by John William Waterhouse. The painting is part of the Royal Academy's collection in London. A replica of this painting adorned a wall in my sister, Linda's homes for many years.
When I explored various subjects for a creative project, what immediately broke the surface of my imagination was the thought of creating mermaids. The idea quickly gathered steam and I now capture images of mermaids in the studio and seasonally in an above ground pool that I set-up in my backyard.
The gorgeous crowns are lovingly handmade. Lauren asked if she could make her own crown so we scheduled an art day. I made the base ahead of time and Lauren decorated her crown with old jewelry pieces, faux fauna and shells. She generously donated the crown to the studio's ever growing collection after her photoshoot so you can wear it too.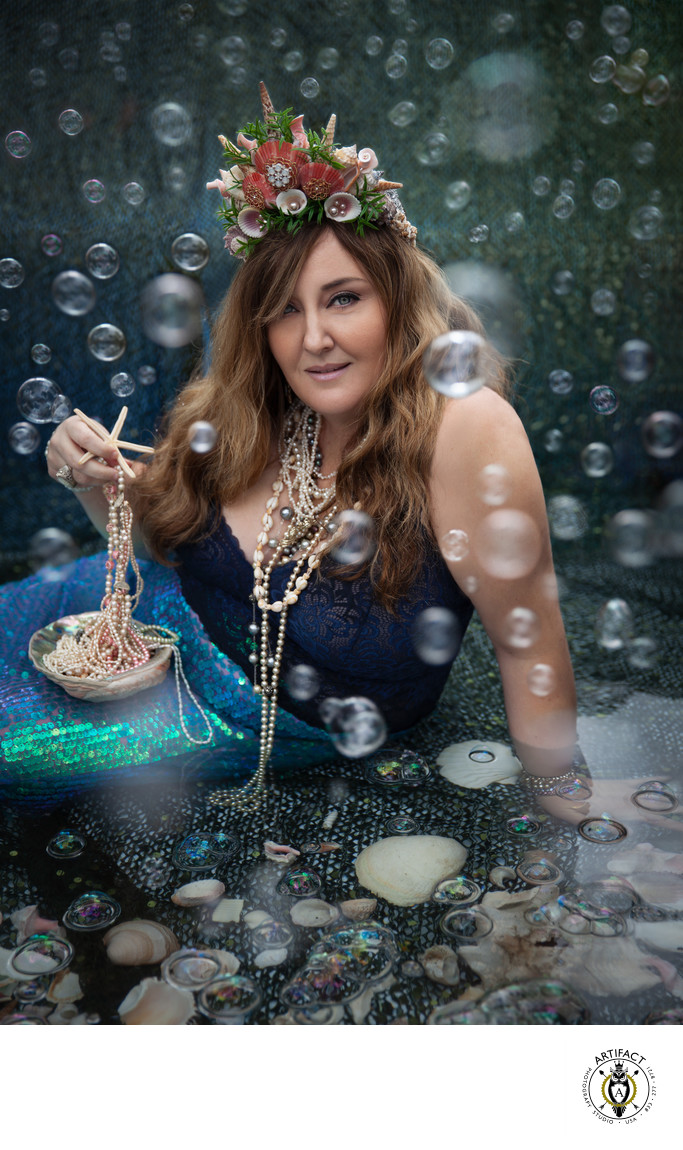 Session Details:
Shallow Pool | Natural Light
Studio Wardrobe, accessories and Props
Bronze Award | Portrait Masters: January 2019
Location: Tucson, Arizona.