Field of Flowers Creative Portraits | Campbell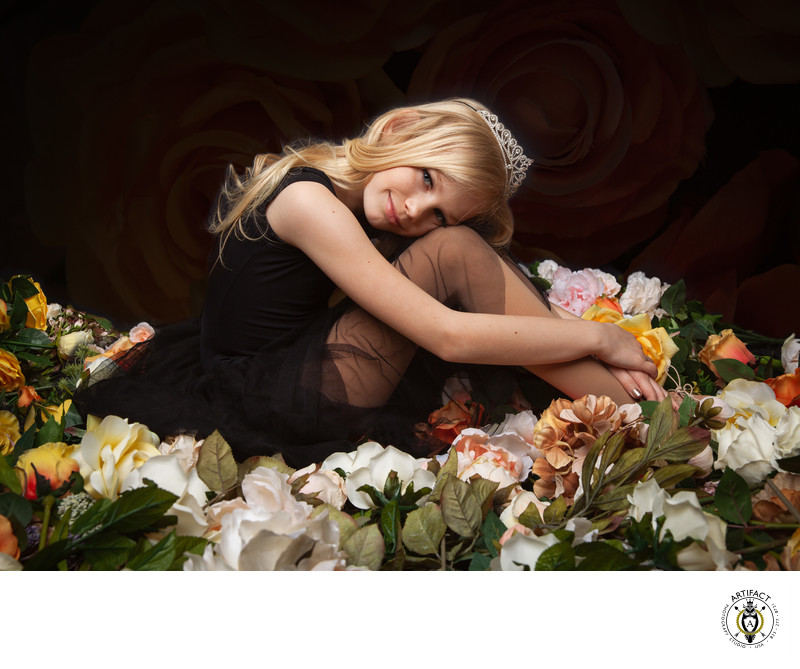 Nothing builds self-esteem and self-confidence like accomplishment. | Thomas Carlyle
I adore working artistically with Campbell because she enjoys being photographed. Visiting the studio for a couple of hours on a Sunday afternoon is a fun activity for her. Campbell's also patient and will happily participate in a creative set-up that enables me to try new lighting set-ups and sets. Sometimes this requires fiddling around with said lights and sets to get things just right and Campbell easily goes with the flow.
Campbell is a member of a competitive dance studio so she is committed to learning the craft of dancing through participating in a rigorous schedule. Personally, I find ballet to be the most beautiful and graceful of all the dance styles. I love watching ballet performances. For many years my daughter and I drove to Phoenix for three performances a year to watch Ballet Arizona perform the choreography of Ib Andersen in accompaniment to live music from the Phoenix Symphony. The athleticism and technical accuracy of the dancers is mind blowing. One of our favorite performances was Coppelia, a comic ballet. Yes, there is such a thing as a comic ballet and both the adults and children loved it.
If you are in Tucson, be sure to mark your calendars to attend Tucson Dance Academy's The Spirit of Christmas at the Desert View Performing Arts Center in Oracle. As advertised, the show truly is "spectacular". All the dancers, including Campbell, dance their heart's out and it is a sight to see.
Session Details: Black foamcore background with overlay | Studio lighting
Studio accessories.
Location: Tucson, Arizona.