The Siren | Lindsey
My brow still burns from the kiss of the queen;
I have dreamed in the grotto where the siren swims... | Gérard de Nerval
For as long as I can remember I have been attracted to the lore and imagery of mermaids, sirens, Melusines, and nymphs. Not all mermaids are nice, there are plenty of naughty ladies of the waters in folktales that span the globe, so you can be mermaid that you want to be.
For my series of mermaids, I envisioned making crowns adorned with shells, abalone, pearls, rhinestones and glitter. Why I had lofty visions of crown making in my head I will never know because I had not previously gone down the creative path of making head pieces. The idea popped into my head and instead of talking myself of it, I asked, "Why not?"
I did research on YouTube, which was helpful. I also looked at Pinterest and some millinery sites to get an idea of how to build a secure wire structure. Then, the rest was my imagination and logically working through the design steps and hurdles.
My sister, Juliette, who is an artist and lives in Bisbee came up to Tucson to help decorate the crowns the night before the photoshoot. When she arrived I had four crowns ready for embellishment. We both decorated two and the results far exceeded my expectations much to my delight.
When I began photographing Lindsey, I actually got a little misty. She looked absolutely stunning lying in the water, surrounded by seashells and with the crown adorning her head. My dream became a vision and my vision became a reality.
When I unveiled this image to Lindsey she shook her head in disbelief. "I can't believe this is me," she whispered. Oh, it is you, Lindsey, it is truly you.
As for you, you can be a magical mermaid too with a crown atop your head.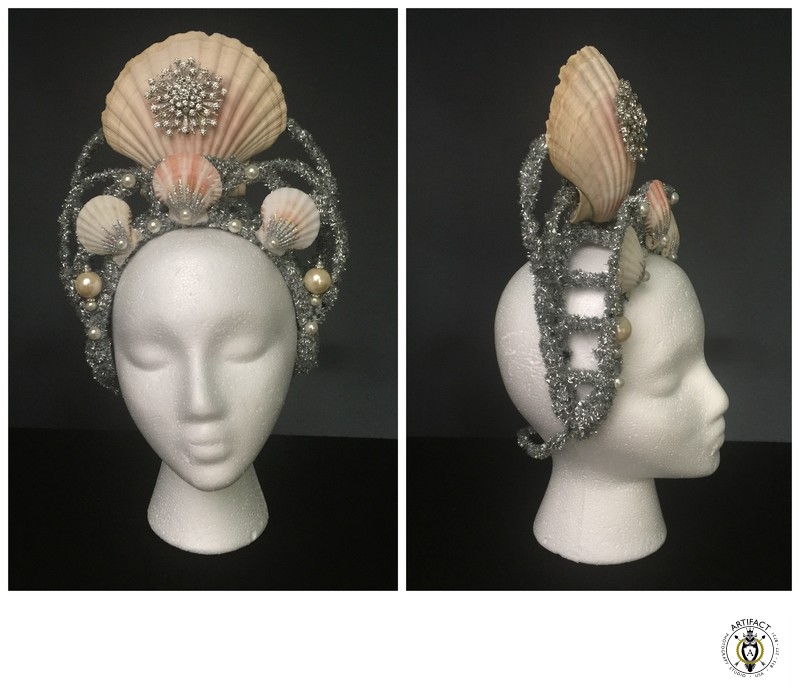 Session Details:
My Backyard Pool | Natural Light
Studio wardrobe and crown.
Location: Tucson, Arizona.