Glamour Portrait with Red Roses | Lily
Tulle, tulle everywhere. The studio has a vast collection of tulle fabric in all the colors of the rainbow.
My love for tulle likely started in the ballet studio when I was a little girl. I loved everything about ballet. When I wasn't practicing in the studio, my ballet barre at home was the long kitchen counter (much to my mother's chagrin because the pointe shoes left little divots in the linoleum floor). I couldn't bear to give away my ballet shoes when I finished dancing. My much beloved pink pointe shoes are stored in a keepsake box on the top shelf of my closet.
When I started the photography studio, my sister Linda immediately went to work sewing big, fluffy tulle skirts. The gold skirt was the first to be completed and it was quickly followed by more skirts in black and pink. There are two types of women, those who swoon over tulle skirts and those that don't. I'm a swooner.
Tulle is amazing because an impromptu "custom" top or dress can be created in a matter of minutes by simply wrapping long lengths of tulle around a body. A hastily assembled tulle top is great paired with jeans or a tulle skirt. Strips of tulle also work well as a shawl, or can be wound into a unique fascinator.
Lily fell hard for the gold tulle skirt. She fell equally in love with the vintage sequin top and ended up wearing it with both the tulle skirt and jeans. Then we added the red roses, because... well, why not?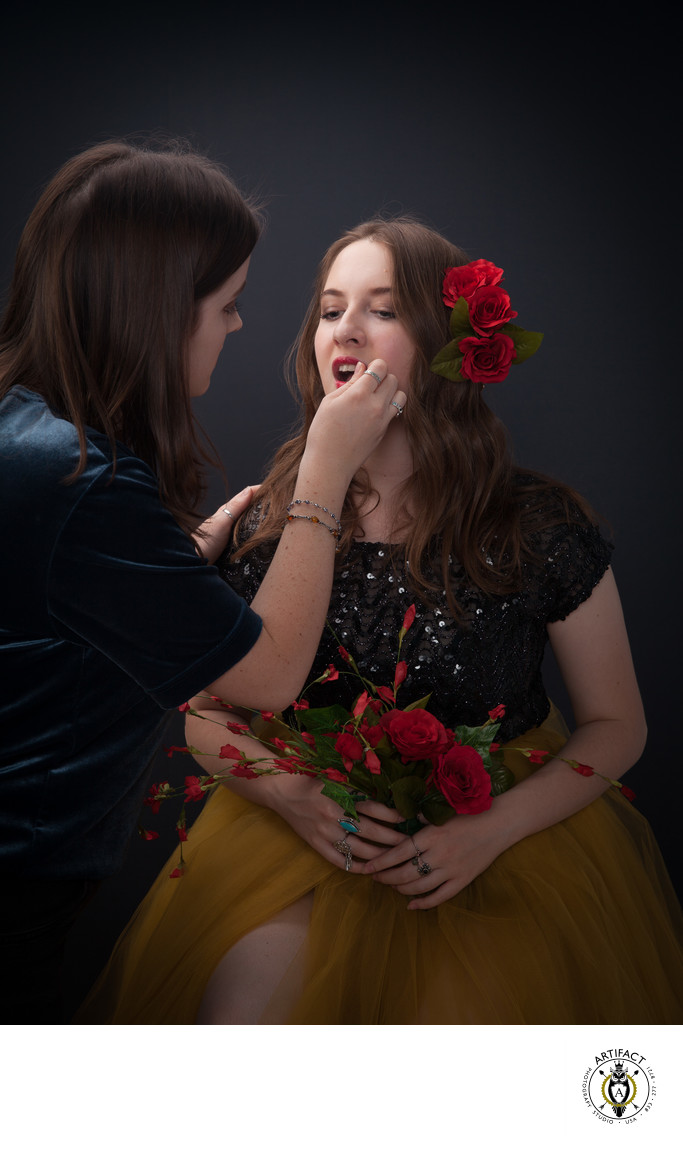 Session Details:
Black foam core board as background | Studio strobes
Gold tulle skirt and black sequin top are members of the studio's wardrobe collection.
Bronze Award | Portrait Masters: September 2018
Location: Tucson, Arizona.