#7 of 50: Susan Broomall
Co-Owner of PLP Printing, LLC
QuickBooks ProAdvisor
Susan and her husband, Don moved to Arizona from Maryland in 2014. Don's desire was to move west and he gently prodded and patiently waited for the day Susan would agree. When their youngest son graduated from college and the rest of their family was spread across the US, there were no more solid arguments Susan could make for staying in Maryland other than just to stay because it is where they felt rooted.
It takes a leap of faith, a bit of luck, and a whole lot of determination to uproot your established lives to move cross country to make a fresh start. In 2005 Don and Susan co-founded PLP Imaging, LLC so they had been running it for nearly a decade before deciding to move. Upon arriving in Tucson they looked at commercial space but ultimately they decided to run the business from their home and garages – yes plural.
They need the extra garage space for the specialty equipment needed to produce custom work for their clients, that includes high-quality printing including wide format giclée prints, product photography, graphic design, high resolution scanning, image post processing and retouching, custom framing, laminating and mounting, business cards, magnetic badges, printed clothing, flyers, posters, signage and banners. When in doubt, give them a call and ask if they can help. If they can't then they will helpfully provide a referral to a vendor that can.
Susan loves numbers and logic. She earned a BA in Mathematics from Mercyhurst University located in Erie, Pennsylvania. She was the Principal for her own consulting firm for nearly 13 years before accepting a position as a staff accountant at a medium-sized accounting firm where she specialized in working with QuickBooks software. Susan is a certified ProAdvisor for all editions of QuickBooks from Online to Enterprise. Susan said that if she would pursue a career other than in the printing industry that she would like to become a CPA.
To help grow PLP's business after arriving in Tucson, Susan joined a local chapter of Business Network International (BNI). Not only has membership in the referral organization helped to expand PLP's business into a variety of industries, Susan has had the opportunity to grow both personally and professionally as well. She accepted leadership roles in her chapter, including serving separate terms as Secretary/Treasurer and then later as President. The owner of BNI SoZona, Chrisie Ballard invited Susan to become a Launch and Support Director for newly forming chapters which she enjoys.
At the most recent BNI SoZona awards ceremony held in June, Susan was heaped with praise. She won multiple awards including Perfect Attendance, Most Continuing Education Units, Leadership Award, and the one that she's most proud of winning, The Above & Beyond Award. Susan jokes that they forgot to recognize her as the winner of the newly minted General Pain in the Ass award. I propose that Susan is well qualified to start a BNI "Over Achievers Club". I'm sure she'll love my idea. Not! But I can't wait to hear her retort. I enjoy her sly one liners.
The most exciting event that is coming up fast is the arrival of Susan and Don's first great-grandchild to join their family's six grandchildren. They are over the moon with anticipation.
P.S. Susan and Don did all the printing for the Wise Women: The 50 Over 50 Portrait Gala from the beautiful portraits in the exhibit gallery, to the engraved badges, to all the signs, postcards, flyers and posters. I enjoy working closely with them as trusted partners of my business.
Read more about Susan, and see additional portraits from her photoshoot, upon the release of the Wise Women: The 50 over 50 Magazine later this year.
You are invited to attend the Wise Women Portrait Gala on Thursday, October 13th at the Savoy Opera House in Tucson, Arizona from 5-9 p.m. Parking is plentiful and free. Each participant will be featured in a creative portrait on display in the art exhibit. Buffet dinner, no-host bar, music, dancing, magic and a raffle will be part of the evening's festivities celebrating these fabulous women. Purchase tickets here on Eventbrite.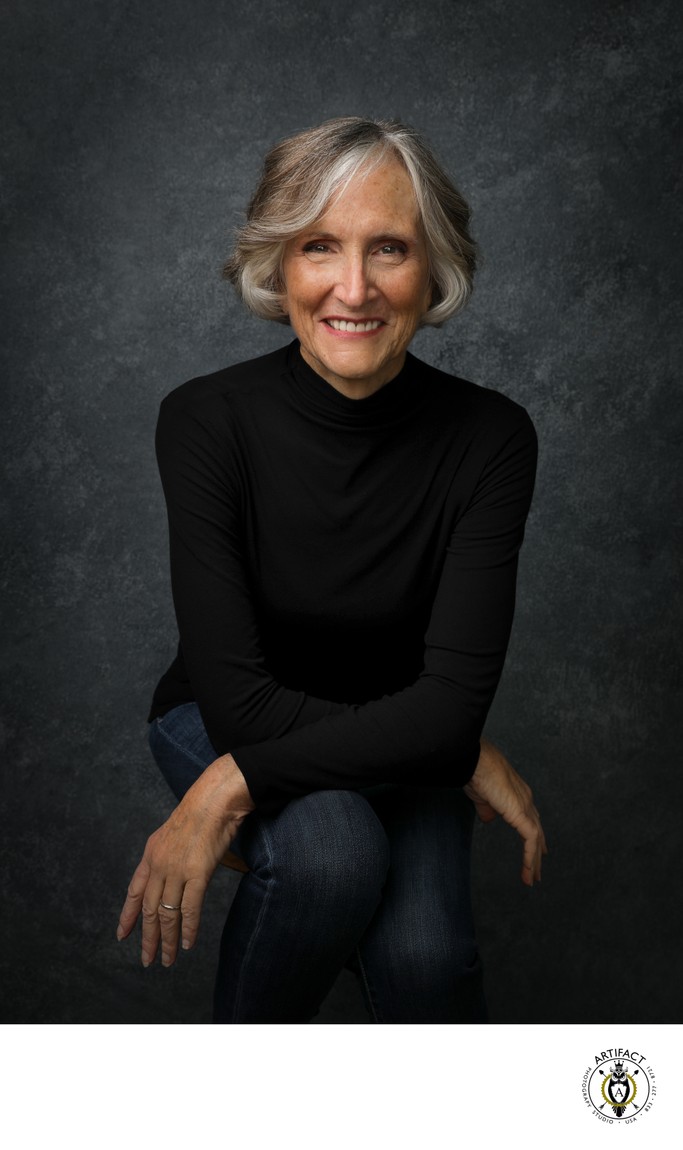 Studio Lighting | Hand painted backdrop by Michelle Beaumont Owens
Location: Tucson, Arizona.