#6 of 50: Evelyn Madrid
Travel Membership Consultant
Artist and Painter
Owner of an Air B&B
Evelyn's perfect idea of happiness is, "Bringing together family, friends and good food." She waits half a beat and then continues her thought, "No matter where I am in the world." This finishing twist makes us both laugh. Evelyn brings her warm hospitality and generous spirit with her wherever she goes. And where she goes is all around the world. The most difficult aspect of COVID-19 for Evelyn was not being able to go on her next big adventure which at the time was a trip to Greece.
In 2017 Evelyn retired as an Assistant Vice President of Bank of America. She worked for the bank for over 34 years. During her time she was able to make an impact on the community and she enjoyed working with local businesses and organizations. In particular, two nonprofit organizations that are near and dear to Evelyn's heart are El Rio Health and Tucson Arts Brigade (TAB).
In alignment with her goal to continue to extensively travel, Evelyn is a Travel Membership Consultant with DreamTrips Travel Club, an MLM that refers itself as an "elite travel club for ordinary people." The company creates boutique travel experiences for members to 4 and 5 star destinations at wholesale rates. The company also has an app that provides discounts on local attractions closer to home such as movie theaters, water parks, amusement parks and concerts. If you need advice on zeroing in on your next big adventure, reach out to Evelyn for assistance.
Evelyn is also a talented artist and designer. She and her husband built their home with all the little details she always dreamed of incorporating into a house. During Covid-19 she spent a significant amount of time remodeling her parent's home in Oracle, Arizona to convert it into an Air B&B. Building a home and renovating another can cause a significant amount of stress on a marriage. Evelyn is happy that she and her husband work companionably together and where other couples have failed, they have succeeded.
Painting is a passion for Evelyn. She works with both oils and acrylics and enjoys playing with color. I ask Evelyn to name her favorite color and she replied, "Taupe." This answer surprised me. When reflecting upon her paintings I was expecting green or blue so she caught me totally by surprise. My follow-up question was to inquire about her sun sign, which is Taurus. Spot on! I figured she had to be an earth sign. Evelyn's travels have led her to me more inspired by photography. She enjoys capturing photographs and editing in the images in Photoshop to further enhance them.
In addition to her husband, Evelyn has a son, 3 grandchildren and 2 great-grandchildren. Rounding out her family are two horses. A favorite pastime is riding off trail with her husband in to the beautiful mountains near Picture Rocks.
Read more about Evelyn, and see additional portraits from her photoshoot, upon the release of the Wise Women: The 50 over 50 Magazine later this year.
You are invited to attend the Wise Women Portrait Gala on Thursday, October 13th at the Savoy Opera House in Tucson, Arizona from 5-9 p.m. Each participant will be featured in a creative portrait on display in the art exhibit. Buffet dinner, no-host bar, music, dancing, magic and a raffle will be part of the evening's festivities celebrating these fabulous women. Purchase tickets here on Eventbrite.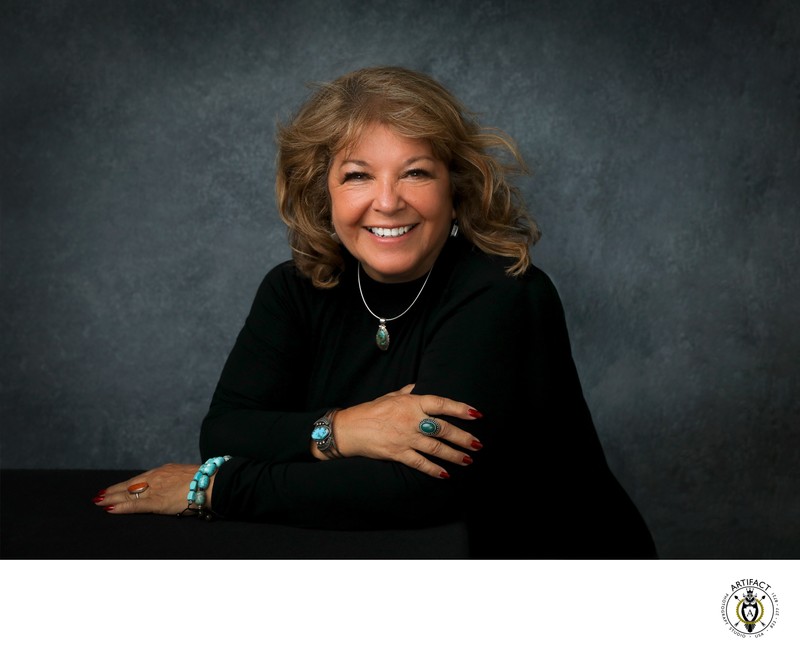 Studio Strobes | Hand painted backdrop by Michelle Beaumont Owens
Professional hair and makeup by Erika Christine Aguirre.
Location: Tucson, Arizona.