#50 of 50: Carlotta Flores
Chef and CEO of Flores Concepts Management & Creative
Author El Charro Cafe: The Tastes and Traditions of Tucson
The first time I met Carlotta I arrived earlier than our appointment just before the noon rush-hour began at her restaurant, The Monica, the newest venture from Si Charro, an umbrella company whose holdings include four Charro brand restaurants, including the flagship El Charro Café, event space Stillwell House, and a catering company. Positioned above Si Charro is Flores Concepts, containing more restaurant concepts and Carlotta's Kitchen, a commercial operation that produces Carlotta's signature salsas, sauces, entrees and sides that are distributed by Shamrock Foods to retailers and food businesses.
In addition to continuing to make and serve family recipes dating back to 1922, Carlotta's recipe development has kept pace with the times offering delicious food for people following specific dietary preferences such as Vegan, Paleo and Gluten-Free. Carlotta understands that making food simply with fresh ingredients wow the taste buds while also meeting the food trends of yesterday, today and tomorrow. Quality never goes out of style and patrons can taste the difference of freshly sourced ingredients.
I enjoyed the late morning cup of coffee while watching the staff working efficiently to prepare food in The Monica's eye pleasing open kitchen. The restaurant and market is named in honor of Carlotta's beloved aunt, Monica Flin who started El Charro Café in 1922 in downtown Tucson. The yearlong centennial celebration started at the beginning of October to honor and celebrate the nation's oldest Mexican restaurant in continuous operation by the same family.
What has impressed me most about Carlotta in the short time that I have known her is seeing her conscious effort to help others. For a woman who is at the helm of a large food enterprise, she takes note of even the tiniest of details. In her seventies Chef Carlotta is involved in the business on a day-to-day basis while she also relies on her husband, two sons and daughter doing their part to help manage the operation.
It is clear to me that Carlotta recognizes how her business acumen and charitable giving can impact the community and give a leg up to fledgling ventures and established businesses alike by partnering or collaborating for the benefit of everyone involved. The business was built on the philosophy, "A business is only as good as what it gives back to its community."
When Carlotta made her entrance through The Monica's front doors it seemed as if the room came to a standstill. Her energy swept through the room and she was greeted by staff and patrons with variations of "Hello Chef", "Hi Chef" and "Carlotta!" being called out from all corners of the restaurant. I observed hugs and offers of beverages and mini updates from family and staff as she juggled all the greetings, updates and offers with a smile and generosity of spirit.
In 2021, Forbes Magazine featured Chef Carlotta on their national Visionary list of 50 women noting, "El Charro Café was a semifinalist for a James Beard Award. Flores oversees 400 employees and is keeping her eyes open for the next opportunity to grow her company even further."
I couldn't be more thrilled that Carlotta is the 50th woman to participate in Tucson's Wise Women: The 50 over 50 Project and I look forward to debuting a feature article from her interview in the upcoming release of the Wise Women Portrait Magazine.
We are not the best because we are the oldest, we are the oldest because WE ARE THE BEST! –From El Charro's website
Read more about Carlotta, and see additional portraits from her photoshoot, upon the release of the Wise Women: The 50 over 50 Magazine later this year.
You are invited to attend the Wise Women Portrait Gala on Thursday, October 13th at the Savoy Opera House in Tucson, Arizona from 5-9 p.m. Parking is plentiful and free and there will indoor and outdoor seating. Each participant will be featured in a creative portrait on display in the art exhibit. Buffet dinner, no-host bar, music, dancing, magic and a raffle will be part of the evening's festivities celebrating these fabulous women. Purchase tickets here on Eventbrite.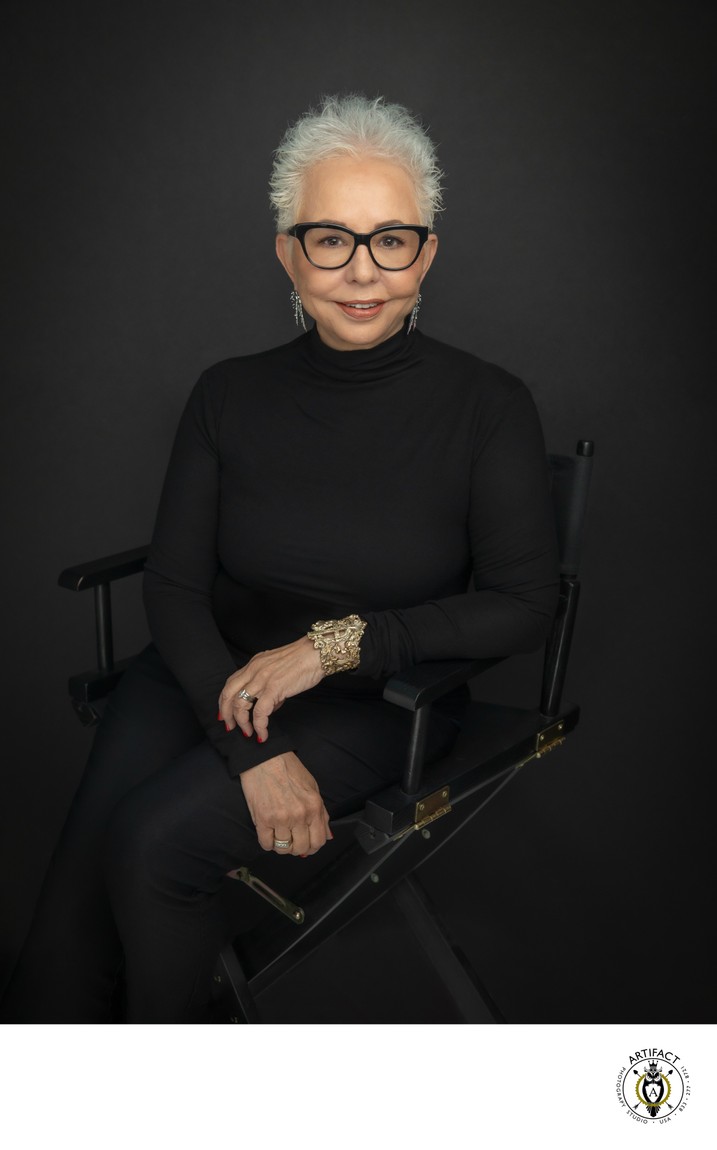 Natural Light and Strobe | Black V-Flat
Makeup by Renee Rodriguez of ReneeJ Makeup and Hair
Location: Tucson, Arizona.