#49 of 50: Susie Stevens
Fitness Instructor and Co-Owner (r)evolve cycling located at St. Phillips Plaza
The media loves to perpetuate stories about women and how they will look after fifty. With all the gloom and doom it's easy to think women are well past their prime in their late forties. Mature women can be labeled as "too this", "too that", "too much" or "not enough". If you need reassurance that your health and body won't fall apart in the second half of your life with a dedicated fitness and nutrition plan, look no further for motivation then in the direction of Susie Stevens.
She wasn't always a gym aficionado. It wasn't until Susie had her second baby, and was suffering from anxiety and depression, that her friend recommended that she should go to the gym. It didn't sound like a great suggestion at the time, but Susie's friend was persistent, so she eventually tagged along. It was one small step towards a series of steps that completely revolutionized her life.
The gym became a refuge for Susie. A place where she could go, release some endorphins, and enjoy the camaraderie of like-minded women who found inspiration in perspiration. Her time at the gym gave her respite and provided her sanctuary from the stresses of raising three children and making ends meet. Shortly after her starting her fitness regimen, the gym offered her a teaching position and a career in fitness unfolded for like the bloom of a lotus flower, one beautiful opportunity and credential at a time, one after another.
Armed with new confidence, Susie eventually found the courage to make major lifestyle changes that included a divorce. She has no regrets in life because her children, and subsequent grandchildren, are very much an integral part of her being.
Susie was in no hurry to embark on a romantic relationship post-divorce. She was contently single when her future husband, Tony happened to be a participant in one of her fitness classes one fine day. He was immediately smitten but Susie remained guarded for a while until eventually he pulled her into his orbit. The rest, as they say, is history. Soulmates for life, they have been happily married for seventeen years and counting. Their combined family wouldn't be complete without their adorable Yorkie fur baby, LouLou.
In 2017, the couple opened an indoor cycling studio, (r)evolve, located at St. Phillip's Plaza. Their goal was to, "Offer Tucson an alternative to big box gyms and provide an original one-of-a-kind group fitness experience that feels more like a party than a workout."
They have clearly succeeded as evidenced by the countless positive affirmations and reviews (r)evolve cycling has received. (r)evolve has become a renowned premier fitness landmark in Tucson. The instructors are friendly and motivational, and the music is fire. Great sweat filled fun! Here's an idea: How about we hold an age 50+ party ride with Susie as our instructor? Now that's a group event that would be total bliss!
Read more about Susie, and see additional portraits from her photoshoot, upon the release of the Wise Women: The 50 over 50 Magazine later this year.
You are invited to attend the Wise Women Portrait Gala on Thursday, October 13th at the Savoy Opera House in Tucson, Arizona from 5-9 p.m. Parking is plentiful and free and there will indoor and outdoor seating. Each participant will be featured in a creative portrait on display in the art exhibit. Buffet dinner, no-host bar, music, dancing, magic and a raffle will be part of the evening's festivities celebrating these fabulous women. Purchase tickets here on Eventbrite.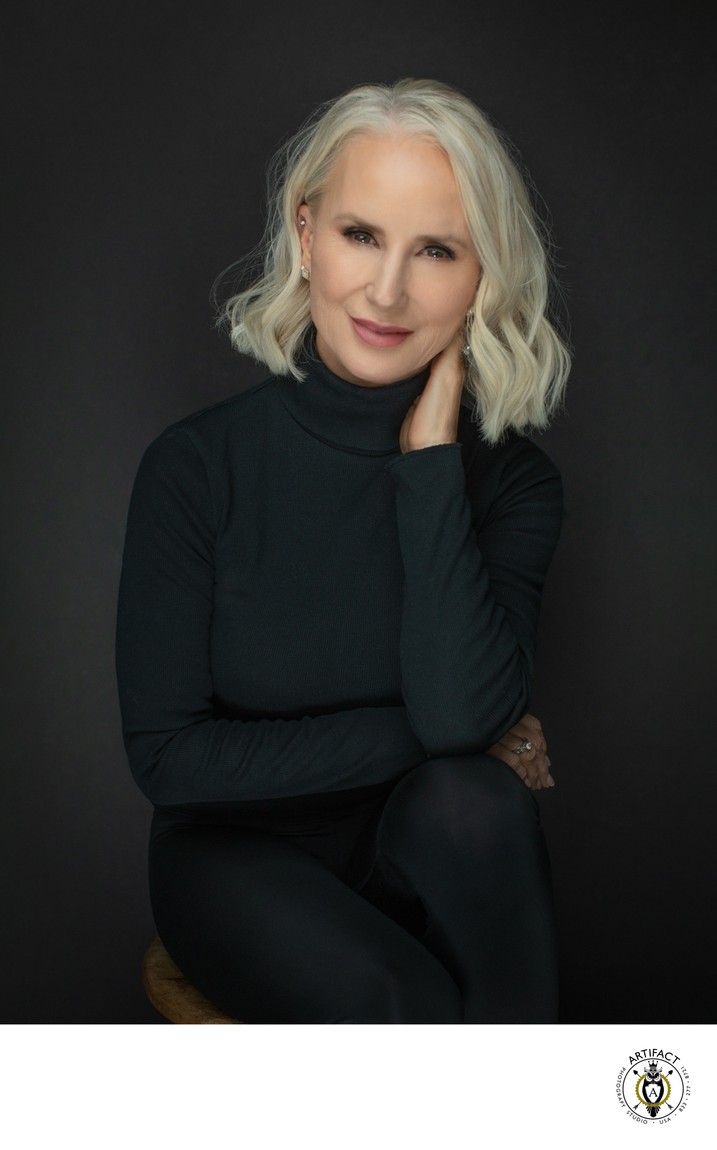 Natural Light and Strobe | Black V-Flat
Makeup and Hair by Renee Rodriguez with ReneeJ MakeupNHair
Location: Tucson, Arizona.