#48 of 50: Patricia Underwood
Performing Arts Director
Board Member of Tucson Jazz Festival
As a person who has always been involved and had ties to the arts, Patricia participated in the Wise Women: The 50 over 50 Project because she was interested in exploring all the emotions she has felt over the last year of her life without her husband Richard Underwood who gave her the greatest happiness and feelings of fulfillment before she was plunged suddenly into the deepest depths of sorrow upon his unexpected and untimely death on October 3, 2021.
Patricia recalled of their relationship, "We were together 24/7. We did absolutely everything together. He was my everything. I had the fairy tale marriage with him that I had always dreamed of. I used to sing before I was with him, 'One day my Prince will come, the man I love'. And with Richard my dream finally came true." And then she lost the love of her life much too soon.
Isaiah 43:1-2 Do not be afraid, for I have ransomed you. I have called you be name; you are mine. When you go through deep waters, I will be with you. When you go through rivers of difficulty, you will not drown. When you walk through the fire of oppression, you will not be burned up; the flames will not consume you.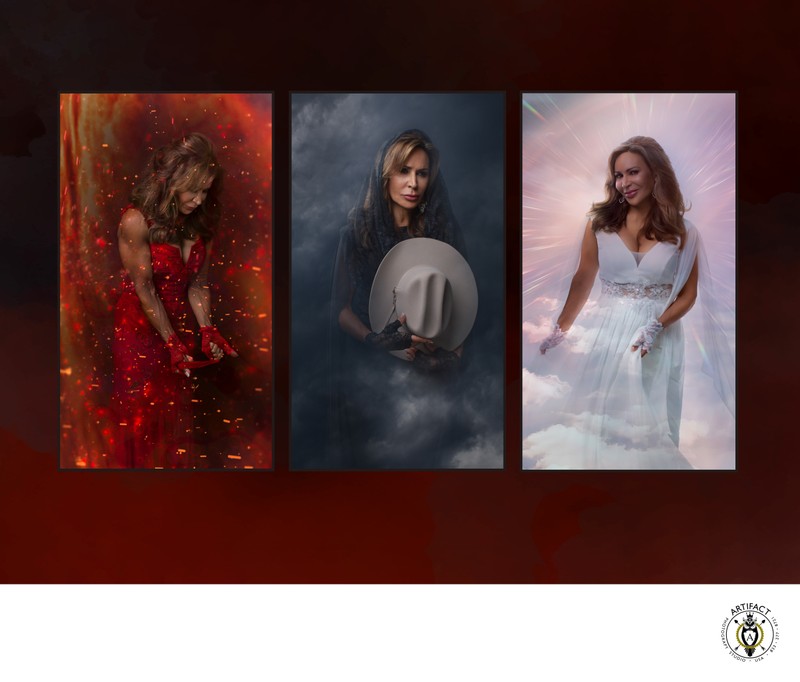 The Widow's Flight
Patricia said, "In my grief I clearly saw three images in my head to describe the narrative of a widow's flight. The narrative tells a story with three dress colors, red, black and white symbolizing a stage in my journey. We all walk through fire, which is represented by the red dress. None of us are going to escape difficult times, which will either help us grow better, or bitter. We also experience grief and joy, represented by black and white respectively."
After Richard had his stroke on June 24th, 2021 he continued to live for four months. Patricia recalls, "I was trying to pull him back. I asked him to not go to the other side. It was too soon. We had only been married for two years. Every morning he was in the hospital I would rise and feel like I was suiting up like a firefighter to step into the furnace to fight the fire. I wanted to rescue him from the burning building that he was in.
Psalm 30:5 For his anger endureth but a moment; in his favour is life: weeping may endure for a night, but joy cometh in the morning.
Before Richard passed away Patricia realized, "The reality is that we can't save everyone. I had to come to accept that I couldn't control the situation. The black dress represents the dark night of the soul." In the portrait with the black dress Patricia is holding the white hat Richard wore on their wedding day. He rode boldly into the ceremony on a horse, just like a Prince.
After his death, Patricia was consumed by grief. She wasn't sure if she'd survive, or even if she had a desire to live. Patricia's weeping endured for more than one night but she did find solace in her deep faith in God. It has been a year of processing Richard's death and slowly Patricia continues to gather her strength so she can move forward on her life's journey even if she must do so without her handsome Prince whom she waited for patiently her entire life.
Patricia said about the symbolism of the white dress, "I will find joy again. I went through a period of shock where I thought I was functioning well but realized later that I was just going through the motions to get from one thing to the next. Then the holidays came last year and the depression really sunk in."
The New Year brought new hope and she has made progress towards joy buoyed by the support and love of her friends and family including her sons, grandchildren, and in particular, her sister, Lilly Mees (the 42nd woman photographed for the 50/50 Project) and Lilly's husband, Fred.
Patricia's hope is that one day she will fall in love again. "Even if the man can fill only one of Richard's boots he'll have the makings for a great husband," Patricia said. "Richard was 13 years older than me and very cognizant of how precious our time was together. After his prior health scares, Richard felt as if he was living on borrowed time and he made every second count." Being the benefactor of Richard's love meant everything to Patricia. And she will continue to feel his love for the rest of her life because love doesn't die, it lives on into eternity.
Continuing with her quest to create more joy in her life, Patricia is returning to music and the world of jazz as a board member for the Tucson Jazz Festival. She is looking forward to curating musical experiences for jazz lovers in the Old Pueblo. Follow the Tucson Jazz Festival on Facebook to stay up to date for upcoming concerts and to receive notifications about album releases and various happenings around town.
Read more about Patricia, and see additional portraits from her photoshoot, upon the release of the Wise Women: The 50 over 50 Magazine later this year.
You are invited to attend the Wise Women Portrait Gala on Thursday, October 13th at the Savoy Opera House in Tucson, Arizona from 5-9 p.m. Parking is plentiful and free and there will indoor and outdoor seating. Each participant will be featured in a creative portrait on display in the art exhibit. Buffet dinner, no-host bar, music, dancing, magic and a raffle will be part of the evening's festivities celebrating these fabulous women. Purchase tickets here on Eventbrite.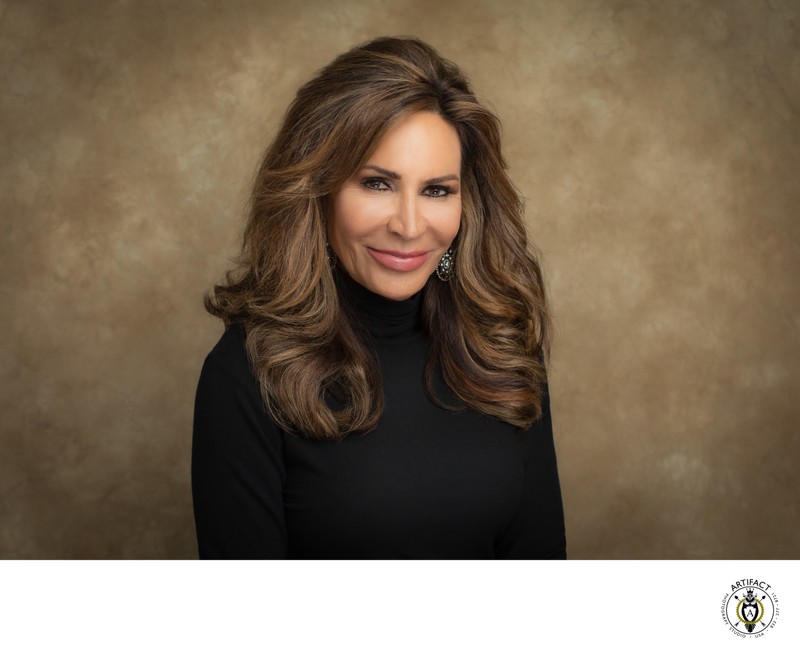 Natural Light and Studio Strobe | Hand painted backdrop
Location: Tucson, Arizona.