#47 of 50: Juliette Beaumont
Mixed Media Artist
Reseller of unique goods and vintage clothing
Recipe developer and Master Baker of phenomenal Wild Yeast Sourdough Bread and thin crust pizza
There is not a time in my life when Juliette is not part of my memory because she is my older sister. Like all sisters we have weathered a few significant storms together and navigating those shared experiences have changed the course of our lives. There were two additional Beaumont sisters. Linda was two years older than Juliette and Maria two years younger. I am the youngest. Maria died of a brain aneurysm and Linda of breast cancer. Frequently I tell, not ask, Juliette to "stay alive" because I don't want to ride out what's remaining of my life without her.
Every once in a while, and less frequently of late, Juliette threatens to sell her house in Bisbee and move her urban farm and garden out to the boonies to a place with acreage and fewer people, as in no one. I really hope she's just blowing off steam since her frustration level has been at an all-time high, which should also be improving significantly in the near future. However, Juliette has a strong mind of her own, and she'll do what she wants regardless of what I or anyone else has to say. My argument, which I'm not shy of sharing, is that as we age it is smart to be in a community, near amenities with close access to friends and neighbors, even if those friends, neighbors and community drive you nuts sometimes. As Frank Sinatra croons, "That's life."
Juliette is one of the most capable, talented, artistic, sensible, and logical people I have ever met and have had the pleasure to work with. The craftsman and engineering part of our family's gene pool, particularly from our dad's side of the family, is strong in Juliette. Her problem solving skills are impressive and she displayed better knowledge of how to remodel a one hundred year home, thanks to her working for a custom home builder back in the 80s, than nearly all the "skilled" labor that were hired this year to make improvements to the house. Juliette found herself trailing behind the tradespeople's correcting their mistakes, even when a game plan was discussed in advance as to how the work would be completed. As a result she has vowed to do all the remodeling herself on her own home when she starts that project next year.
Juliette is a multi-faceted artist who enjoys working with mixed media. She's also known to recycle and upcycle objects into her art. Her intricately beaded jewelry and leather work, including purses, were carried in a variety of upscale galleries throughout Arizona and into California and New Mexico. Intricate bead work is now difficult to do with her aging eyes but Juliette has some upcoming projects that will incorporate all her skills, including her ability to felt, sew, bead, sculpt and paint. Yes, she can do it all.
As a single mother of three children, all of whom are now adults, a significant portion of Juliette's income came from thrifting. Juliette has a knack for finding valuable items and vintage clothing at thrift stores. She'd resell the items on eBay and at a retail space within an Antique Mall located on Main Street in Bisbee. Juliette's son, when he was about 10 years old, wrote a very humorous paper about thrifting with his mother in Sierra Vista. Paul's essay earned an A and was incorporated into a blog post called The Accidental Thrifter written by Juliette and published on our sisters' blog, Salvation Sisters. Oh yes, did I mention that Juliette is also a fantastic writer? Especially when she is fired up about a topic. Linda and I used to poke the bear over email just to see what missive Juliette would fire back at us. Ah, the good old days.
It's been more than a year since our mother's death and Juliette is still trying to get her life back on track. Five years of Juliette's life was dedicated to providing care for our mother. It was a role Juliette did not want and truthfully it was not a great experience and yet she did it anyway because it was the right thing to do. There seems to be palpable societal pressure on women to act as if caregiving is not a burden. Even under the best of circumstances caregiving is difficult and can be both financially and emotionally taxing. The caretaking role took a toll on Juliette's mental and physical health. Juliette is looking forward to 2023 and finally being able to embark on the projects that she put on the back burner to manage the day-to-day aspects of caring for an elderly parent who didn't do much of anything to help make the situation better for her daughter.
And if all of Juliette's aforementioned talents weren't impressive enough she is also an amazing home cook and professional baker. Many year ago she developed the sourdough recipe for a pizza restaurant in Bisbee. That relationship didn't last but the sourdough did. Juliette pivoted from the restaurant and started Guadalupe Baking Company (GBC) where all the breads, rolls, bagels and pizza dough were made from her artisanal naturally leavened sourdough. She became regionally well known for her baked goods selling through farmer's markets, local markets in Bisbee, and to restaurants. Due to the physical labor involved in the day-to-day running of a bread business, Juliette closed GBC not long before our mom got sick, but Juliette continues to bake delicious bread to this day and if you're lucky she may just gift you a loaf. Juliette's two grandsons, and her super fans, have been known to eat an entire baguette in one sitting. And if you are really lucky she'll make you the thin crust New York-style pizza of your dreams.
Read more about Juliette, and see additional portraits from her photoshoot, upon the release of the Wise Women: The 50 over 50 Magazine later this year.
You are invited to attend the Wise Women Portrait Gala on Thursday, October 13th at the Savoy Opera House in Tucson, Arizona from 5-9 p.m. Parking is plentiful and free and there will indoor and outdoor seating. Each participant will be featured in a creative portrait on display in the art exhibit. Buffet dinner, no-host bar, music, dancing, magic and a raffle will be part of the evening's festivities celebrating these fabulous women. Purchase tickets here on Eventbrite.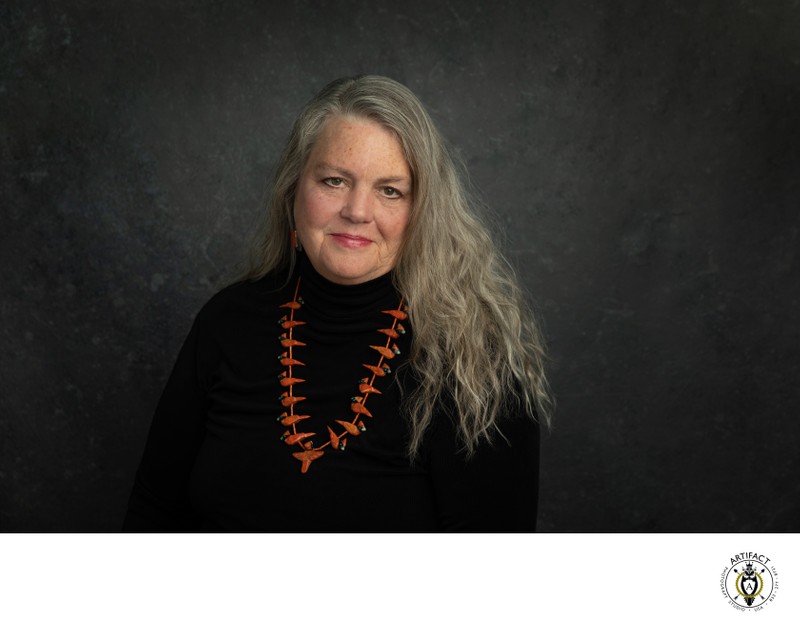 Studio Strobes and Natural Light | Hand painted backdrop by Michelle Beaumont Owens
Location: Tucson, Arizona.