#45 of 50: Kathleen Winn
On-air personality for 1030 KVOI AM @ 9:00 an weekdays; Tucson's only live and local news/talk radio station; Episodes are available on demand on the Winn Tucson website, click here
Founder and Executive Director Project 25
Former Community Outreach and Education Director for the Arizona Attorney General's Office
Former Candidate in 2022 for the US House of Representatives, 6th Congressional District
Kathleen completed a four-year term serving on the Governing Board for Maricopa Community Colleges. Her biography on the website provided a succinct summary of her many accomplishments, "Ms. Winn has extensive experience in public service, serving organizations that benefit military personnel and veterans, people facing homelessness, seniors, and her local community members. She has also devoted her time to combating a variety of causes including senior abuse, human trafficking, crime, homelessness and substance abuse."
Kathleen's growing concern over the state of the world and, in particular, politics at a local level, compelled her to not simply complain about what she saw and to feel helpless. Instead, she rolled up her sleeves and got to work putting together a campaign to run for Congress. Because that's what Kathleen does. She gets involved in being part of the solution. Kathleen ran against Juan Ciscomani, who ultimately prevailed in winning the primary election to serve in the U.S. House of Representative for Arizona's 6th Congressional District.
Kathleen only had a couple of days of down time after the election before she regrouped and pursued her next opportunity. Kathleen's campaign gave her the ability to dig deeper into the issues, meeting knowledgeable and influential people both in Arizona and Washington D.C. Although she was disappointed she did not advance to the general election, Kathleen is excited about what's next. She was invited to become an on air radio host on KVOI 1030 AM. Her show is called Winn Tucson. Her greatest desire is to focus on issues, not politics.
For example, Kathleen is blessed with ten granddaughters and six grandsons. She started the not for profit organization PROJECT 25 to, "Take a stand against those who exploit, traffic and rape children for profit in our communities."
Kathleen explained, "Child exploitation used to be covert and now it's overt. People are finally waking up to the dangers of sexual predators. I was cautioning parents and the public a decade ago about what I was learning about the predatory tactics used by sex offenders while I was working at the Arizona Attorney General's office. Once you know what's happening in the underbellies of our communities and nation, you can't unknow it. Creating awareness and fighting sexual exploitation of minors is a full time job. No one asked me to do the job. I saw a need and stepped into that space."
Kathleen continued, "In Arizona the number of missing children has doubled in the past year from 800 to 1,600. These are children of all ethnicities. There are over 5,000 missing Native American women and children. And it's not being talked about. There's a lot of information that needs to get out to the public. And the police need to be equipped with better tools to assist them in their work."
Kathleen is leveraging her experience and knowledge to spotlight issues and to work towards fixing them by focusing on the issues and not the vitriol. Many of the issues we face are not unique to Tucson. She'll be inviting by local and national speakers to her show to have the important conversations that can lead to action and then ultimately change. Kathleen urges women to step forward and get involved at a local level.
Kathleen said, "There's a lot of wisdom that is overlooked in women who are older and more experienced."
Let's be inspired by Kathleen and lean into our collective power to make a difference for Tucson and our nation.
When women come together with a collective intention, magic happens. –Phylicia Rashad
P.S. Kathleen interviewed Michelle Owens about the Wise Women: The 50 Over 50 Project.
Here is the link: Kathleen/Michelle Interview on Winn Tucson 1030 KVOI AM
As a side note, we encountered some technical issues that morning with the phones so it took a work around to get us connected. Technology, it's great when it works!
Read more about Kathleen, and see additional portraits from her photoshoot, upon the release of the Wise Women: The 50 over 50 Magazine later this year.
You are invited to attend the Wise Women Portrait Gala on Thursday, October 13th at the Savoy Opera House in Tucson, Arizona from 5-9 p.m. Parking is plentiful and free and there will indoor and outdoor seating. Each participant will be featured in a creative portrait on display in the art exhibit. Buffet dinner, no-host bar, music, dancing, magic and a raffle will be part of the evening's festivities celebrating these fabulous women. Purchase tickets here on Eventbrite.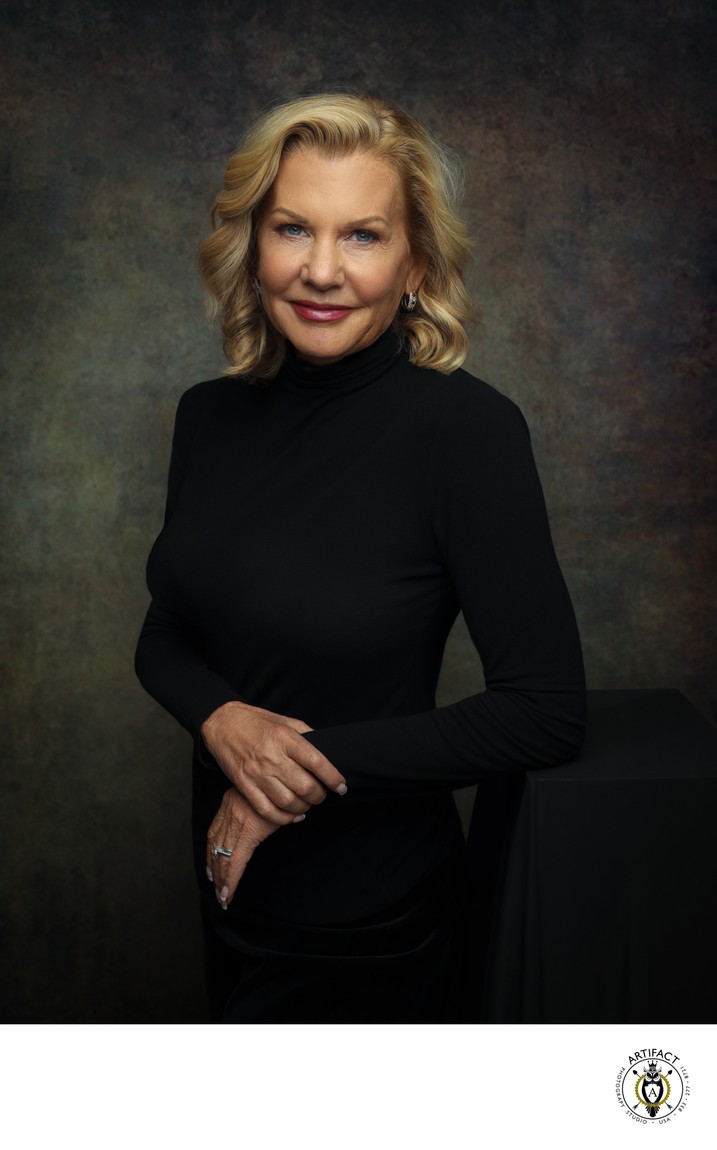 Studio Strobes and Natural Light | Pop-up background
Makeup by Renee Rodriguez of Radiate with ReneeJ
Kathleen's Public Service
Project 25 World Executive Director
Marine Corps Scholarship Foundation
Board of Directors Pinnacle Forum
Shared Hope Advisory Board
Arizona Governor's Substance Abuse Partnership
Arizona Centennial committee
Arizona Cactus-Pine Girl Scout Leader
Hearth Foundation
RAPAC
New Beginnings/Homeless shelter
Veteran's Courts
TASA- Task Force Against Senior Abuse
NITVAN- National Director *
State Committeeman/ Precinct Committeeman
Arizona Crime Prevention Association
City of Phoenix Human Trafficking Task Force
Habitat for Humanity
Central Christian Sunday School teacher
Location: Tucson, Arizona.