#44 of 50: Amy Olsen
IT Consultant
Amy Olsen's LinkedIn profile reports that she is happily retired. She is enjoying an active lifestyle that includes cycling, hiking, and pickleball. And when she is not participating in physical activities, she is helping friends, volunteering, and open to making new connections.
Her retirement is well deserved after a 30+ career with increasing responsibility in technology management. She finished out her career as the Director of Enterprise IT operations at The University of Arizona. And while Amy's "officially" retired, she has been known to accept part-time consulting engagements.
I love following Amy on Facebook because her posts encourage me to get out from behind my desk, log off the computer, and get myself outdoors. She and her beloved dog, Jack, a Wheaton Terrier, like to go on walks and hikes together. Recently Amy hiked Mt Wrightson, the second highest mountain - by only a miniscule 11 feet - in Southern Arizona and it is part of the Santa Rita Mountains. It was about 4000' of climbing, which is equally impressive when you find out she had a knee replaced not too long ago. #respect
Recently, nearly half of the Wise Women: The 50 Over 50 Project's participants met on the patio at El Charro Ventana for a happy hour. During her introduction Amy pointed at Thimble Peak, a well-known landmark in the Santa Catalina Mountains, and casually mentioned that she had climbed to the top. Not many can similarly mention that accomplishment over a margarita. I joked about hiking to the bar that was less than 25 feet away to order another round.
When Amy's not hiking or cycling in the greater Tucson area she is likely on a road trip that includes hiking and cycling. Jack's a good traveler in that he like visiting new places, but he doesn't like long trips in the car too much. The car trauma was worth it though for the trek around Prescott, scouting the Granite Dells, and taking a dip in Watson Lake.
Earlier this year Amy embarked on a month long road trip. She visited Colorado and took in the beauty of Pike's Peak and the Garden of the Gods. Amy also made her way through Wyoming hiking the hills of Sundance where she was totally bummed she missed the testicle festival, which is ironically held over Father's Day, but she did eat Rocky Mountain Oysters anyway because when in Wyoming, well... that's what one does. It's part of the eating adventures of being on the road. She hopped on a mule and took him for a ride in South Dakota. What's next is anyone's guess. Amy's a fun friend to live vicariously through. Her travel logs serve as inspiration for her followers to go out and have our own adventures.
If you want to know about breathtaking hikes and adventurous road trips, Amy's your girl. She'll hook you up with great tips, tricks, and destinations whether you're traveling solo or with your best friend, canine or human.
Read more about Amy, and see additional portraits from her photoshoot, upon the release of the Wise Women: The 50 over 50 Magazine later this year.
You are invited to attend the Wise Women Portrait Gala on Thursday, October 13th at the Savoy Opera House in Tucson, Arizona from 5-9 p.m. Parking is plentiful and free and there will indoor and outdoor seating. Each participant will be featured in a creative portrait on display in the art exhibit. Buffet dinner, no-host bar, music, dancing, magic and a raffle will be part of the evening's festivities celebrating these fabulous women. Purchase tickets here on Eventbrite.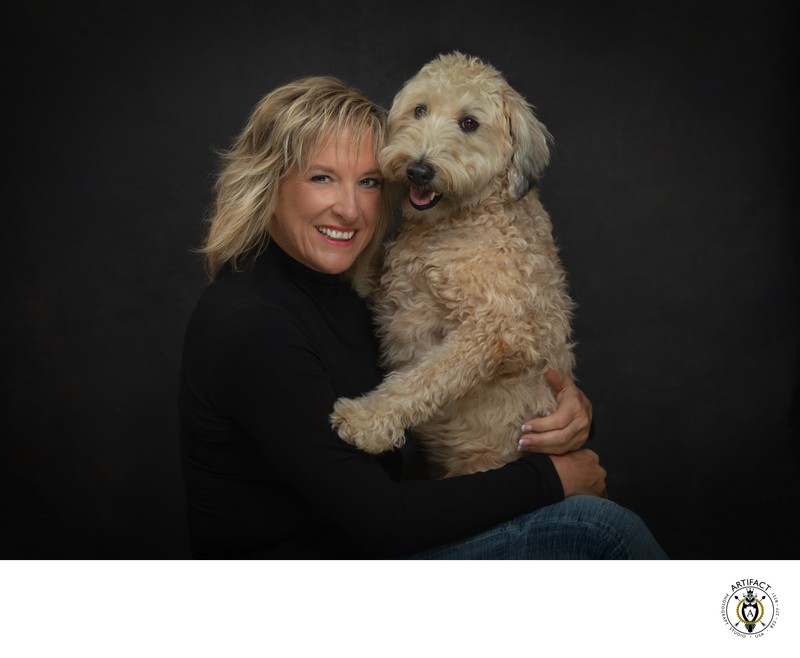 Amy was photographed with her beloved Wheaton Terrier, Jack, who was an absolute gentleman in the studio. #bestdogever
Studio Strobes | Hand painted backdrop by Michelle Beaumont Owens
Makeup by Renee Rodriguez of Radiate with ReneeJ
Location: Tucson, Arizona.