#43 of 50: Jennifer Davis Paige
President and CEO of Boom Goddess Radio (BGR)
Radio Personality on KXCI in Tucson at 3:30 p.m. every Sunday and KRDP 90.7 FM in Phoenix also on Sundays at 6:00 p.m.
Co-Founder of Network of Extraordinary Women
Retired Director of Product Management with Amtrak, based in New York and Chicago
Jennifer Davis-Paige is a powerhouse. She has enjoyed a long and illustrious career in a variety of roles including employment with Playboy and Amtrak. Along the way she served as a judge for the Ms. Senior Arizona Pageant. She even modeled for Clairol hair color while living in New York. Talking to Jennifer about her life's experiences makes for an interesting trip traveling down her memory lane.
Jennifer is the President and CEO of Boom Goddess Radio, since its inception in March of 2015, Jennifer is a full-time podcast host. Jennifer's is heard on Radio Phoenix KRDP 90.7 and KXCI in Tucson every Sunday. If you can't catch her live, episodes are recorded and available on demand from the Boom Goddess Radio website. Jennifer's primary topics of discussion are related to local news and culture, music, art and artists, health, food and dining, and so much more.
Between airing on the radio and the podcast, Jennifer has gained over 100,000 listeners. There are 104 million monthly podcast listeners in the USA and that number is only increasing as time marches on because listeners can tune in when they want, where they want and as long as they want. A whopping 79% of the listeners tune in to podcasts while commuting and 66% of consumers say they prefer podcasts over TV, according to Discoverpods.com and Listennotes.com.
One of the conveniences that Jennifer misses from her days living on the east coast is the option to travel by train for work and pleasure. She dreams of a day when rail services are convenient for passengers traveling between Tucson and Phoenix. Before moving to Tucson Jennifer was the Director of Product Management with Amtrak. She was based in New York and Chicago. Jennifer was also nominated for Amtrak's prestigious Presidential Service and Safety Award for Achievement.
Jennifer and her friend, Barbara Korol Peters, known as BB, are the founders of the Network of Extraordinary Women (NEW). The social group's mission is, "To link a diverse group of women by collaborating, supporting and sharing information that impacts our lives." The group meets monthly on the first Monday excluding holidays. The meeting place is The Urban Grove a delightful oasis and event space located just south of Oracle on the North side of Orange Grove. Members and visitors bring their own lunch, arrive at 11:20 am and contribute $5 a person to attend the meeting.
Jennifer dedicates time to volunteering in the community. She raised funds for Sister José Women's Center, Wreaths Across America, and most recently for KRDP 90.7 FM Radio Phoenix, a unit of Desert Soule media, Inc., a 501(c)(3) tax-exempt organization. It is Arizona's first black owned and operated radio station in over 20 years. The plan is to extend broadcasting to Tucson. In September 2022, Jennifer produced a fundraising Jazz show in Tucson at the Dunbar Pavilion with a vocally gorgeous performance by Ada Redd Austin with proceeds of the performance benefiting the radio station.
Between her podcast, women's group and philanthropy work, Jennifer is always looking for ways to connect and deliver value for both her personal, professional and charitable giving relationships.
P.S.
Tune in to hear Jennifer interview women involved in the Wise Women: The 50 Over 50 Project:
Michelle Owens Episode BGR327 | Styleographer® & Creator of Wise Women: The 50 Over 50 Project
Jodi Hempel Episode BGR328 | Navigating Caring for Your Aging Parents or Loved Ones
Lilly Mees Episodes BGR326 Part 1 and BGR329 Part 2 | Diabetes Prevention & Treatment
Gayle Petrillo Episode BGR234 | How to Navigate First Impressions
Read more about Jennifer, and see additional portraits from her photoshoot, upon the release of the Wise Women: The 50 over 50 Magazine later this year.
You are invited to attend the Wise Women Portrait Gala on Thursday, October 13th at the Savoy Opera House in Tucson, Arizona from 5-9 p.m. Parking is plentiful and free and there will indoor and outdoor seating. Each participant will be featured in a creative portrait on display in the art exhibit. Buffet dinner, no-host bar, music, dancing, magic and a raffle will be part of the evening's festivities celebrating these fabulous women. Purchase tickets here on Eventbrite.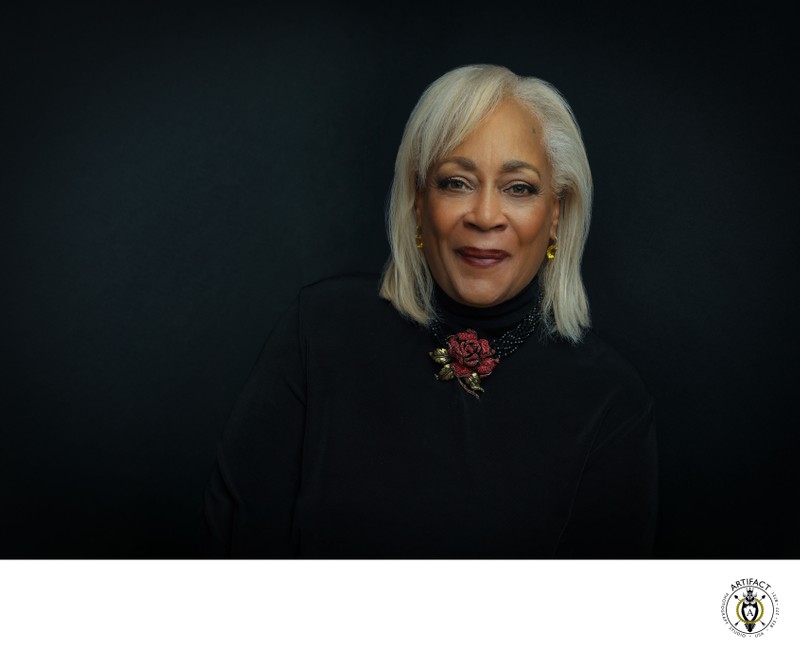 Studio Strobes | Black V-Flat
Makeup by Renee Rodriguez of Radiate with ReneeJ
Location: Tucson, Arizona.