#42 of 50: Lilly Mees
Founder & CEO of Stepping Forward, LLC
Certified Diabetes Care and Education Specialist (CDCES)
You never know what is behind your YES, if you always keep saying NO. –Lilly Mees
One of the most satisfying aspects of the Wise Women: The 50 Over 50 Project is hearing a participant's story of personal growth and how she if fully stepping into her power in the second half of life. Lilly has found her purpose, and her greatest desire is to positively impact as many lives as possible with her life changing education that was created for people who are affected directly or indirectly by a chronic illness, including patients, care givers and professional healthcare providers. Lilly said, "My passion and goal is to empower and assist others in managing their health and improving their quality of life."
Lilly's background includes a Bachelor's Degree in Science from Northern Arizona University, and a Master's Degree in Social Work from Arizona State University. She is an educator, advocate, author, and speaker. Her experience includes training, coaching, educating and mentoring others. Lilly's goal is to deliver and ensure that those caring or living with a chronic disease feel empowered to manage their illness. Lilly's mission is to provide education, coaching and group support through an interdisciplinary team approach comprised of RN's, Pharmacists, Dieticians, Social Workers, Exercise Specialists and Patient Advocates. It is a wellness approach that works.
Lilly was diagnosed with Type 1 Diabetes in her late thirties, so she is intimately familiar with how the disease affects a patient's mental and physical health. Living with and managing the disease is why she provides education on the importance of treating the whole person using a holistic approach. Lilly noted, "Diabetes affects a person from head to toe. People who are managing their treatment plan do much better when they have support to help and guide them."
One of Lilly's operating principals is that a person's trials and blessing are, in truth, the same. She quotes Byron Katie, "Life doesn't happen to you, it happens for you." It really shifts one's thinking and reframes a challenging situation and how it's experienced. Perceiving challenges as something that are beneficial removes the victim mentality and provides a way to shift one's thinking into a creative problem-solving mentality while simultaneously taking ownership of the situation.
Lilly is supported in her life's journey by her husband, Fred, and her extended network of co-workers, friends and family, including Patricia Underwood, who was the 48th woman photographed for the project.
Life is simple. Everything happens for you, not to you. Everything happens at exactly the right moment, neither too soon nor too late. You don't have to like it… it's just easier if you do. –Byron Katie, Teacher of the self-inquiry method known as "The Work".
Read more about Lilly, and see additional portraits from her photoshoot, upon the release of the Wise Women: The 50 over 50 Magazine later this year.
You are invited to attend the Wise Women Portrait Gala on Thursday, October 13th at the Savoy Opera House in Tucson, Arizona from 5-9 p.m. Parking is plentiful and free and there will indoor and outdoor seating. Each participant will be featured in a creative portrait on display in the art exhibit. Buffet dinner, no-host bar, music, dancing, magic and a raffle will be part of the evening's festivities celebrating these fabulous women. Purchase tickets here on Eventbrite.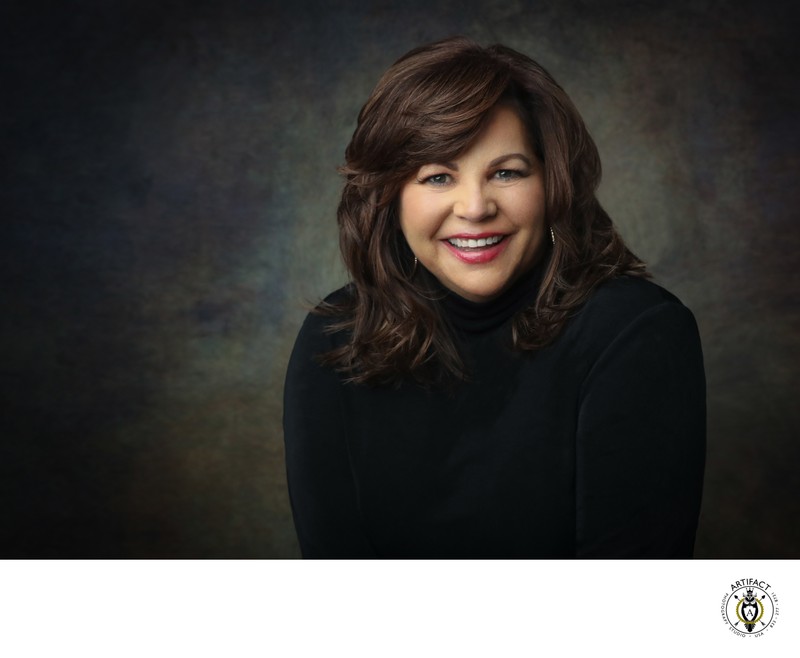 Studio Strobes | Pop-up background
Makeup by Renee Rodriguez of Radiate with ReneeJ
Location: Tucson, Arizona.