#41 of 50: Juliet Fortino
Licensed Professional Counselor
Registered Play Therapist-Supervisor helping children heal from their previous traumas. She also speaks locally and nationally on a variety of topics.
Master Certified Life Coach
Certified Clinical Trauma Professional
Personal Strength Training & Barbell Aficionado*, Check out this fun video of Juliet by Block Fitness
*Note this girl pulled a 300 pound dead lift #jawhitsfloor #dontmesswithjuliet #proudestgymmoment
Nutrition Coach
Author of Polly Porcupine's Prickly Day, with more books to follow in the series
I learned in my early thirties that life is not promised and it is not guaranteed when I faced down cancer. I enjoy the hell out of my life. –Juliet Fortino
"I was super excited about turning 50," Juliet said. "I'm proud of it. Despite what others might think of me and what I look like, I like me and I like what I look like."
"That's been a bit of a journey, right?" I asked, "How long did it take for you to get there?"
Juliet replied with a laugh, "Fifty years. I truly feel like I'm in a good mental place about who I am, where I am, my body, what my body can and can't do. After 50 years I am happy with who I am. My hope is to continue to grow from this point of happiness with myself. I'm a big believer in learning. If we're not learning we're stagnating so I want to continue on this journey of growth and self-discovery."
Juliet doesn't have a lot of attachment to things. She and her husband, Henry are all about investing in experiences. Millennials don't have anything on these two team members of Generation X. They don't have children and no pets. Being unencumbered frees them to do what they love best which is to spend time with friends and family and travel. They go see concerts, plays, and sporting events. And they love dancing to the George Howard Band when he plays at The Gaslight Music Hall in Oro Valley.
In the summer of 2022 Juliet and Henry enjoyed an Alaskan cruise and taking land excursions into Anchorage and Denali National Park where they saw a caribou, a moose and a porcupine. They continued on to Juneau, Skagway and Ketchikan. While seeing Hubbard Glacier was awe inspiring, Juliette's favorite activity may have just been hanging out with a bunch of cuddly Alaskan Husky puppies. After deboarding the ship the couple hopped a train to Banff and Lake Louise in Canada to finish the trip.
In April they went to French Polynesia stopping in Tahiti, Bora Bora, Raiatea and Taha'a. A couple of the fun activities included feeding black tip sharks off the back of a yacht and fire dancing. They stopped by Gauguin's gardens and refreshed themselves with ice cold coconut water. They swam, they sailed, and they lived their best lives while the luxurious minutes slipped away on an ocean breeze in paradise.
In between major trips, Juliet and Henry went to Disney's Epcot theme park in Orlando, and Sedona in Northern Arizona. Like true jetsetters they flew to Sioux City, South Dakota to attend a Thomas Rhett concert. In truth, I had no idea who Thomas Rhett is, which made Juliet laugh. Apparently, he's kind of a big deal in country western music.
If there is ever a poster girl for the motto "work hard, play hard" then my vote goes to Juliet to be the spokesperson. Her work as a therapist, while important and rewarding, is mentally taxing. The work can take its toll on the mind and body. Many therapists, in particular children's therapists, will eventually suffer from burnout and compassion fatigue. Self-care needs to be prioritized to actively maintain a healthy mindset. Concentrating on fitness at the gym, nutrition on a daily basis, as well as consistently pursuing her personal interests helps Juliet balance the seriousness of the work she does in her private practice.
Read more about Juliet, and see additional portraits from her photoshoot, upon the release of the Wise Women: The 50 over 50 Magazine later this year.
You are invited to attend the Wise Women Portrait Gala on Thursday, October 13th at the Savoy Opera House in Tucson, Arizona from 5-9 p.m. Parking is plentiful and free and there will indoor and outdoor seating. Each participant will be featured in a creative portrait on display in the art exhibit. Buffet dinner, no-host bar, music, dancing, magic and a raffle will be part of the evening's festivities celebrating these fabulous women. Purchase tickets here on Eventbrite.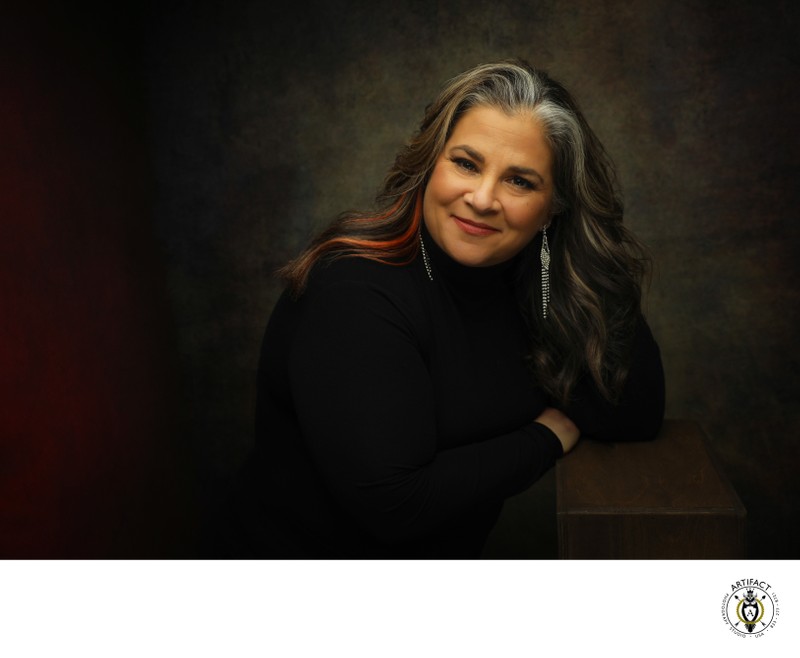 Studio Strobes | Pop-up Backgrounds
Makeup by Renee Rodriguez of Radiate with ReneeJ
Location: Tucson, Arizona.