#40 of 50: Tina Young
Realtor with Long Realty in Oro Valley helping buyers, sellers, investors and land buyers
Do you want to know a fun fact about Tina Young? She might just be Tucson's Dr. Doolittle. Tina is a woman with a deep love for animals and they do their best to communicate with her. Take for example, Lovely, a wild dove that decided Tina was his person. Call it love at first sight. He flapped his wings in front of her until she felt compelled to present her hand to him. Lo and behold he hopped on to her hand, and when she swept her hand up to her shoulder, Lovely completed the transfer and stayed on her shoulder acting as if he didn't have a care in the world.
Once the connection was made Lovely didn't leave. He stayed within the yard at all times. Tina would step out in onto the patio in the morning and call for him and Lovely would fly right over to her. If she slept in a little late, he'd make an appearance at the bedroom window and coo until he got the attention he craved. He'd pace by the door indicating he was waiting impatiently for an invitation to come in. Tina reached out to a bird rescue and they advised her to not let him in. Guess what? Lovely eventually got let in under the cover of being traumatized after being chased by a Hawk. Tina insists he wasn't really traumatized, he was just playing on her sympathies. The strategy worked. Even a bird knows that persistence is required to achieve one's goals.
Tina has one dog, a Pitbull and Weimaraner mix, named Red, although she has many well loved dogs in per past that went over the rainbow bridge. She met Red at the Human Society's store at the mall. She had a couple of minutes to spend before an appointment and that's all it took to fall in love. Tina has a cockatiel she named Pablo Francisco and two tortoises, Thelma and Louise. She had two bearded dragons, Khal Drogo and Khaleesi and sadly she's down to one. She wondered why the two did not manage to reproduce, that is until after Khaleesi's death when she discovered that Khal was a girl, too. One more mystery solved. Tina likes reptiles and said that she would probably have a snake if she didn't have to feed it live animals. A woman's got to know her limitations.
When she's not making friends with wildlife you can find Tina all around town meeting people and taking care of business as a realtor. I've bumped into her at concerts, happy hour and networking events. It's always lovely spending time with her. Tina's dedicated to fitness and is a regular at the gym. She is always seeking to go next level and in real estate that would becoming a real estate broker, which she would like to attain by the end of the year. As a real estate investor herself Tina can help her clients with her diverse personal and professional experience.
Read more about Tina, and see additional portraits from her photoshoot, upon the release of the Wise Women: The 50 over 50 Magazine later this year.
You are invited to attend the Wise Women Portrait Gala on Thursday, October 13th at the Savoy Opera House in Tucson, Arizona from 5-9 p.m. Parking is plentiful and free and there will indoor and outdoor seating. Each participant will be featured in a creative portrait on display in the art exhibit. Buffet dinner, no-host bar, music, dancing, magic and a raffle will be part of the evening's festivities celebrating these fabulous women. Purchase tickets here on Eventbrite.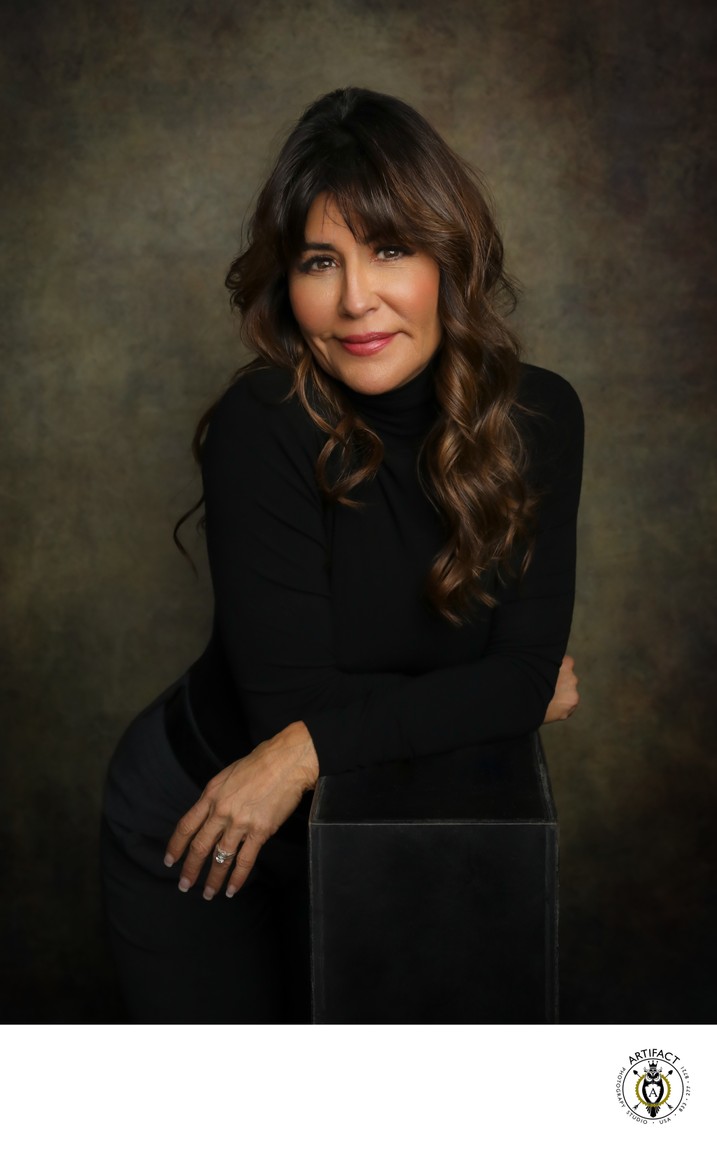 Studio Strobes and Natural Light | Pop-up Backdrop
Makeup by Renee Rodriguez of Radiate with ReneeJ
Location: Tucson, Arizona.