#39 of 50: Di Anne Allan
Fitness Instructor
Budding Entrepreneur
Like many of the women who crossed the threshold of Artifact Photography's home studio to participate in the Wise Women: The 50 Over 50 Project, Di Anne was in a transitional phase of her life. She was still feeling the aftershocks of a divorce that came after a long marriage that produced Di Anne's favorite people on the planet, her two daughters and one son. Her kids are in transition too. Her oldest just embarked upon a career in nursing, her middle child started college and the youngest is a Freshman in high school.
And on top of all of those personal changes, Di Anne's launching a business. She's been on a huge learning curve with designing a logo, studying branding, investigating website design, planning social media strategies and dealing with all the "stuff" that is mostly positive and definitely life changing, but also occasionally aggravating and at times overwhelming. Hashing through all the details is a lot to absorb, consider, process and then once decided, implement.
As we sat chatting and getting to know one another, Di Anne had an easy laugh and expressed herself in a self-deprecating manner. She's open, observant and funny. Her emotions, at the time, were still raw. Despite facing challenges and overcoming grief one step at a time, Di Anne's tone was hopeful for the future and the opportunities she was (and is) manifesting in her life.
While we spoke, a vivid image stepped into my head of Di Anne rising like a Phoenix from the flames. The legendary Greek bird from mythology is associated with the sun and rebirth making it an important symbol of the cycle of regeneration: life, death, and rebirth. When I shared my thoughts with Di Anne her large hazel eyes grew big with excitement and her voice rose half an octave when she asked, "Can we do that? Can I be a Phoenix rising from the flames?" I paused for two beats, mulling over what it would take to create such an image. But, honestly. How could I resist? We would find a way to make the photograph together. I responded, "Yes. But, we'll need wings."
While Di Anne sourced the wings and the bodysuit, I gave thought as to the best method for capturing fire and smoke. My husband helped me on a rare windless day in our backyard. He lit smoke bombs and waived them about while I photographed every color of smoke bomb available so that I could make my own library of stock photographs. Then he lit the fire pit that was piled high with dry yard trimmings so that the flames would leap high into the air. He kept the hose handy to ensure the fire didn't get out of control. I happily captured photographs of the coals, flames and embers while my skin felt the heat of the fire.
On the day of the photoshoot Di Anne and I saved the Phoenix for the last set of wardrobe changes. I wish we had captured video of Di Anne jumping about while attempting to keep the wings on her shoulders, which was no easy task. Good thing she is a fitness instructor. She readily met the challenge. The wings, harness and straps had a mind of their own and kept shifting around. By the end of the day all Di Anne wanted was pizza and wine, and not necessarily in that order, so we headed to North. We sat outside on the patio, appreciating the perfect weather, while eating all the delicious carbs we craved and washing down every delicious bite with a sip from our shared bottle of wine. Heaven! If only every photoshoot could end that way.
When I eventually unveiled not one but two stylistically different Phoenix portraits for Di Anne she wept tears of joy, which moved me to tears, too. Fortunately I had tissues handy. We both needed them. The portraits symbolize that Di Anne can do hard things. What feels like a death will lead to a rebirth. Life finds a way. Even the darkest scorched earth will eventually recover and produce new life. A woman rises from the ashes of her past life to rebuild, to learn and to grow. Hanging on her wall, the Phoenix art serves as a reminder that no matter what may come Di Anne's way she has the ability to reinvent herself and rise like a beautiful Phoenix time and again, as required, over the course of her life.
Read more about Di Anne, and see additional portraits from her photoshoot, upon the release of the Wise Women: The 50 over 50 Magazine later this year.
You are invited to attend the Wise Women Portrait Gala on Thursday, October 13th at the Savoy Opera House in Tucson, Arizona from 5-9 p.m. Parking is plentiful and free and there will indoor and outdoor seating. Each participant will be featured in a creative portrait on display in the art exhibit. Buffet dinner, no-host bar, music, dancing, magic and a raffle will be part of the evening's festivities celebrating these fabulous women. Purchase tickets here on Eventbrite.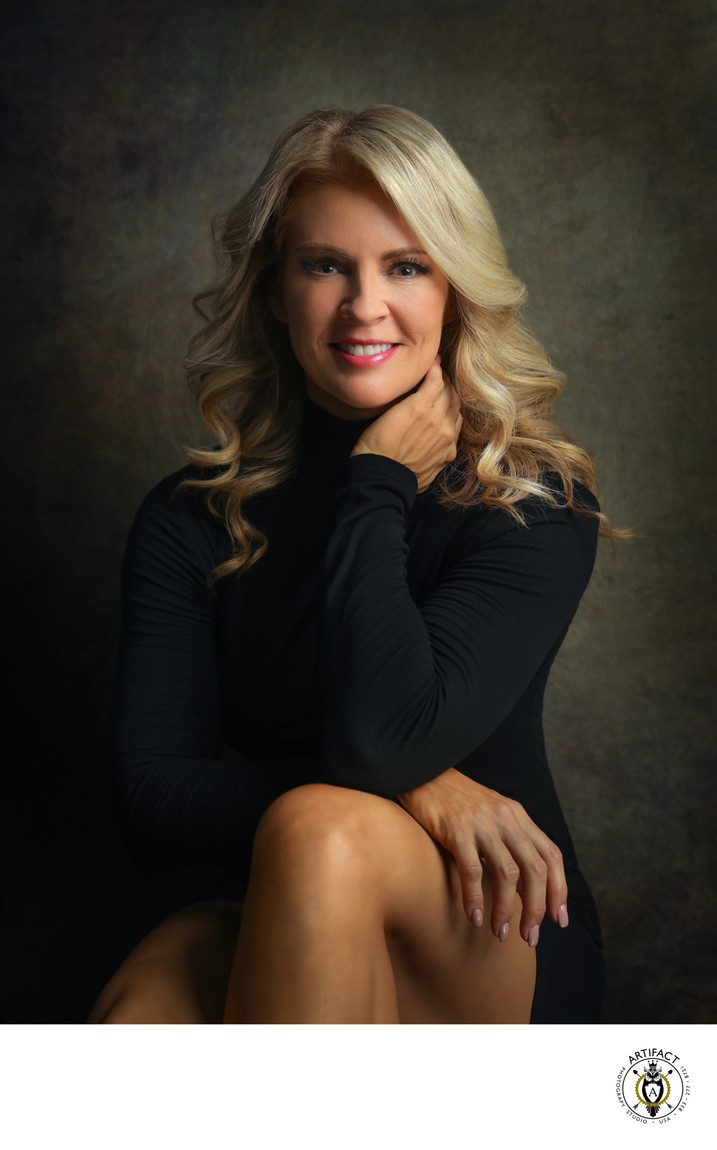 Studio Strobe | Pop-up Background
Makeup by Renee Rodriguez of Radiate with ReneeJ
Location: Tucson, Arizona.