#37 of 50: Angela Heitzenrader
Administrator for the Vail School District
Angela's life story is a bit of a roller coaster ride with the highest of highs, the lowest of lows, and plenty of twists and turns in between. If her story was made into a movie, the theme song she would choose is "You Haven't Seen the Last of Me" by Cher. The lyrics begin with these words that resonate so strongly with Angela:
Feeling broken
Barely holding on
But there's just something so strong
Somewhere inside of me
And I am down but I'll get up again
Don't count me out just yet
I've been brought down to my knees
And I've been pushed way past the point of breaking
But I can take it
I'll be back
Back on my feet
This is far from over
You haven't seen the last of me
–Lyrics by Diane Warren
Angela and her husband, Vern, moved to Tucson in 2021. It's been a bit of an adjustment for them, relocating to the dry and hot Arizona after living in greener and wetter areas such as Washington State and Minnesota. Their home features a resort-style backyard with pool and jacuzzi, which has made the transition a bit easier. But the highlight of moving to Vail, as it turns out, is her work. She accepted an administrative position working for the school district, and Angela couldn't be happier. The staff and teachers feel like an extension of her family, and it's been easy to make wonderful friends in a short period of time.
Angela has three adult children—two daughters, Amber and Krystin, and one son, Robert. Rounding out her household are her beloved Bernese mountain dog, Jack; her beautiful green-eyed cat, Abigail; and a female ball python named George. Regardless of the snake's gender, Angela's grandson, Spencer, wanted to name the snake George, so they did—as good grandparents do.
Speaking of grandchildren, Angela's daughter Krystin has four children. One of Angela's treasures is a ring from a toy vending machine that her grandson gave to her. While presenting the ring, he conveyed his love for his Gramma. Angela tears up recalling the moment. She wore the ring until it turned her finger green. She laughs sweetly at the memory. During their move to Tucson, some belongings were stolen from her car, including her wedding ring. She panicked, thinking that she had placed her grandson's gift with her other jewelry. Angela was relieved to discover that the priceless ring was packed in a different location and the thieves didn't get it.
For the photoshoot, Angela's greatest desire was to include George. I wasn't so sure. My initial reaction was to say no, but I really try not to say no just to say no. I had to really think about it, and then Angela and I had a heart-to-heart about it. I shared that I'm terrified of snakes. Angela retorted that she's terrified of photoshoots. Touché. We both overcame our fears and we have the pictures to prove it.
As far as the future goes, Angela's found a measure of hard-fought and hard-won contentment in this life. She's overcome heartbreak and betrayals and isn't interested in contemplating the past. She dismisses thoughts of "woulda, shoulda, coulda." There's the past and there's the future. And she's walking with intention toward the horizon.
Read more about Angela, and see additional portraits from her photoshoot, upon the release of the Wise Women: The 50 over 50 Magazine later this year.
You are invited to attend the Wise Women Portrait Gala on Thursday, October 13th at the Savoy Opera House in Tucson, Arizona from 5-9 p.m. Parking is plentiful and free and there will indoor and outdoor seating. Each participant will be featured in a creative portrait on display in the art exhibit. Buffet dinner, no-host bar, music, dancing, magic and a raffle will be part of the evening's festivities celebrating these fabulous women. Purchase tickets here on Eventbrite.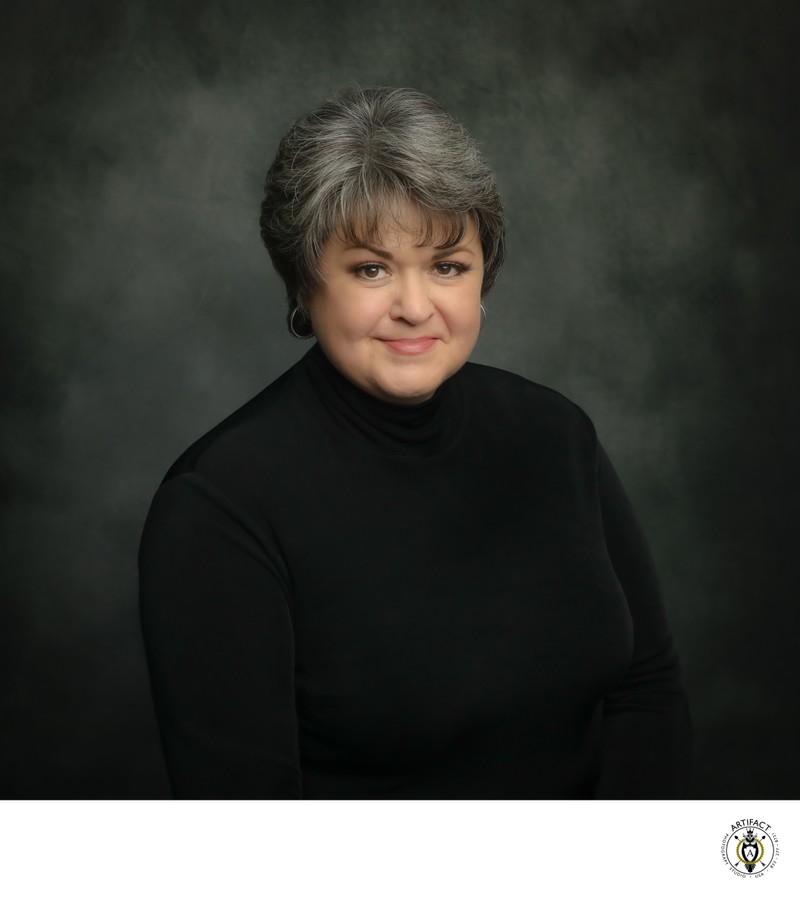 Studio Strobes | Pop-Up Background
Makeup by Renee Rodriguez of Radiate with ReneeJ
Location: Tucson, Arizona.