#35 of 50: Ramona Daniel
Professional Dance Instructor and Ballroom Dancer
Ramona did most of her growing up in California's San Fernando Valley. Hers was a large family with nine children and she fell in line with the, "final leg of three." Ramona got her first taste of dancing at a class she attended with a couple of her siblings. Unfortunately her sisters weren't as excited about dancing as Ramona and the lessons eventually stopped but Ramona kept dancing at school, on neighbor's porches, and anywhere she could.
Ramona's father retired when she was in high school and her parents decided to relocate to Douglas, Arizona. Ramona and the remaining siblings that were still in school had no choice but to move with them. After graduating high school Ramona applied to become an instructor at a Fred Astaire Dance Studio in Tucson. Ramona recalled, "What better occupation could there be for me than to dance? I thought to myself, 'This could actually be my job?'" Ramona was incredulous that she could make a living teaching people to dance and that is exactly what unfolded for her. At sixty she can still do flips and tricks and she has no plans to retire. She'll keep dancing until she can't dance anymore, but hopefully that day will never come.
Today she is an independent dance instructor and she teaches her students at two locations: Studio West School of Dance at Broadway & Wilmont, and Dream Dance at Wetmore & Stone. Early in her career Ramona discovered Latin dances came naturally to her. She continued adding dances to her repertoire from all the different ballroom styles. Ramona loves them all. Nothing is better than being in perfect rhythm with her partner and the music on the dancefloor wearing a bedazzled dress.
Ramona donates her time and talent to participating in the annual fundraising event Dancing with the Stars of Tucson to support the Diaper Bank of Southern Arizona. Like the television show, a professional dancer is paired with a local celebrity. Ramona choreographs a dance and performs it with her celebrity partner. Even though it's a competition Ramona observed that all the professional dancers are all very supportive of each other. The event this year raised $145,000. According to the DiaperBank's website, "One in Four children born in Southern Arizona do not have access to diapers due to economic status. For every $1 dollar donated, we can distribute $3 worth of diapers to Southern Arizona." Ramona feels grateful to donate her time and energy to such a worthy cause.
Ramona is married and has two grown sons who she taught to dance. She considers meeting her husband the luckiest things that has happened to her. Everything changed for the better after she met him. They are proud of their sons and the men that they've become.
Read more about Ramona, and see additional portraits from her photoshoot, upon the release of the Wise Women: The 50 over 50 Magazine later this year.
You are invited to attend the Wise Women Portrait Gala on Thursday, October 13th at the Savoy Opera House in Tucson, Arizona from 5-9 p.m. Parking is plentiful and free and there will indoor and outdoor seating. Each participant will be featured in a creative portrait on display in the art exhibit. Buffet dinner, no-host bar, music, dancing, magic and a raffle will be part of the evening's festivities celebrating these fabulous women. Purchase tickets here on Eventbrite.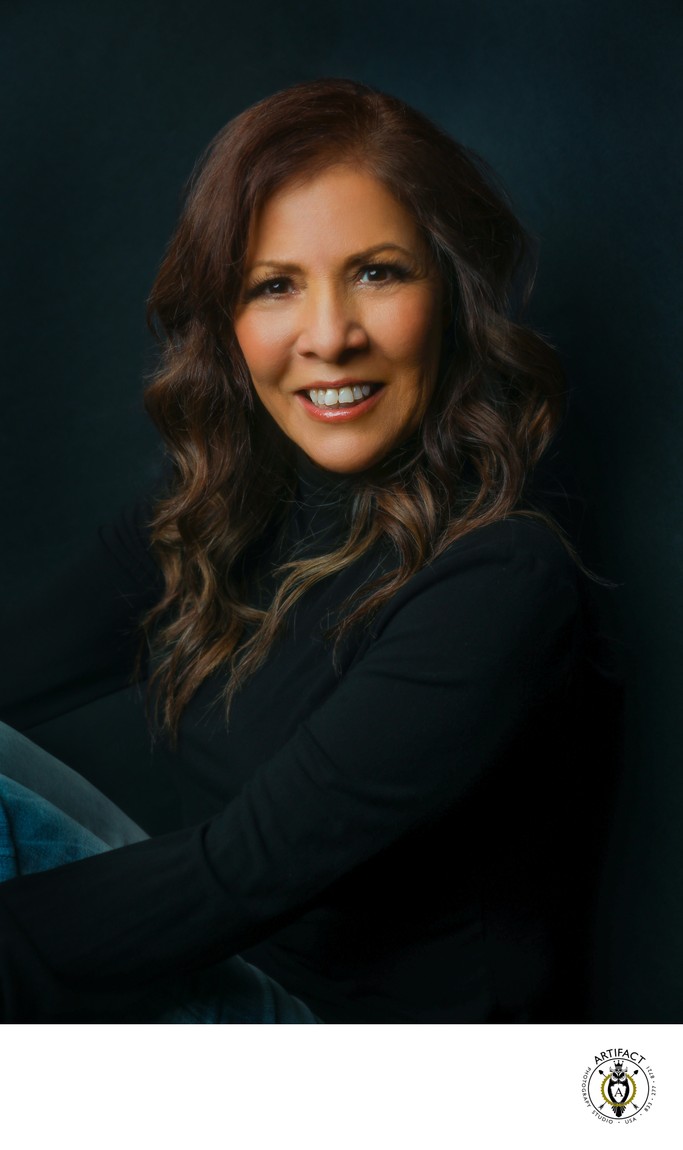 Studio Strobes | Black V-Flat
Makeup by Renee Rodriguez of Radiate with ReneeJ
Location: Tucson, Arizona.