#33 of 50: Melissa Perillo
Registered Nurse at Tucson Medical Center (TMC)
Hospice Caregiver for Aging Dogs
Melissa's parents were in their forties when she was born. Her brother and sister were 18 years and 15 years older than Melissa. Her mother was distressed by the surprise pregnancy, but her dad was thrilled. Melissa's grandmother predicted that all would be well, and that Melissa would be a blessing to the family. Melissa said, "As it turned out my mom and I were very close. I kept my parents younger with my activities. And I was the one who took care of them until the end of their lives."
Melissa's parents grew up during World War II and with few belongings. Melissa said she noticed the generation gap between her parents and her friends' parents. In particular Melissa took note of her parents' excellent work ethics. Her dad liked to quote St. Jerome, "Good, better, best. Never let it rest. 'Til your good is better and your better is best." Those words roll off Melissa's tongue as if she's repeated them to herself a million and one times while she was developing her own excellent work ethic.
Melissa was six years old when she decided to become a nurse. She is one of those blessed souls who knew what she wanted to be when she grew up. Melissa has never regretted her life's path nor her dedication to caregiving. She progressed through the ranks at Banner Health for 15 years before being promoted to the role of RN Manager of a 33 bed Neonatal ICU. She served in that distinguished role for 17 years. The long hours and high stress eventually made Melissa yearn for the simpler days when she provided direct care to patients. To that end, in January 2022, Melissa accepted a nursing position at Tucson Medical Center. She is happy to have less responsibility and to work directly with patients. It is important for Melissa to go the extra mile for all her patients and to be a blessing in their lives.
In addition to caring for humans, Melissa and her husband provide palliative care for elderly canines. The couple foster aging and ailing dogs and give them love and care at the end of their lives. The pets are given up for adoption by their families when their care becomes too burdensome. Melissa said, "My goal is that the dogs know they are loved and that they are receiving care and are not in a shelter, scared, and waiting to be euthanized. At our house the dogs have soft beds and receive a lot of attention. It's not easy, at all, but it is rewarding, and the dogs give me so much love in return."
At the time of our interview Melissa had 13 dogs in her care. One had just passed two days previously. The shelter had already called and asked if Melissa could take one more. Caring for the dogs is an extensive routine twice a day, in the morning and night, to feed them and give them their medications. When I ask Melissa what her favorite words are she replies, "Caring and compassion." Two words that describe her perfectly.
Read more about Melissa, and see additional portraits from her photoshoot, upon the release of the Wise Women: The 50 over 50 Magazine later this year.
You are invited to attend the Wise Women Portrait Gala on Thursday, October 13th at the Savoy Opera House in Tucson, Arizona from 5-9 p.m. Parking is plentiful and free and there will indoor and outdoor seating. Each participant will be featured in a creative portrait on display in the art exhibit. Buffet dinner, no-host bar, music, dancing, magic and a raffle will be part of the evening's festivities celebrating these fabulous women. Purchase tickets here on Eventbrite.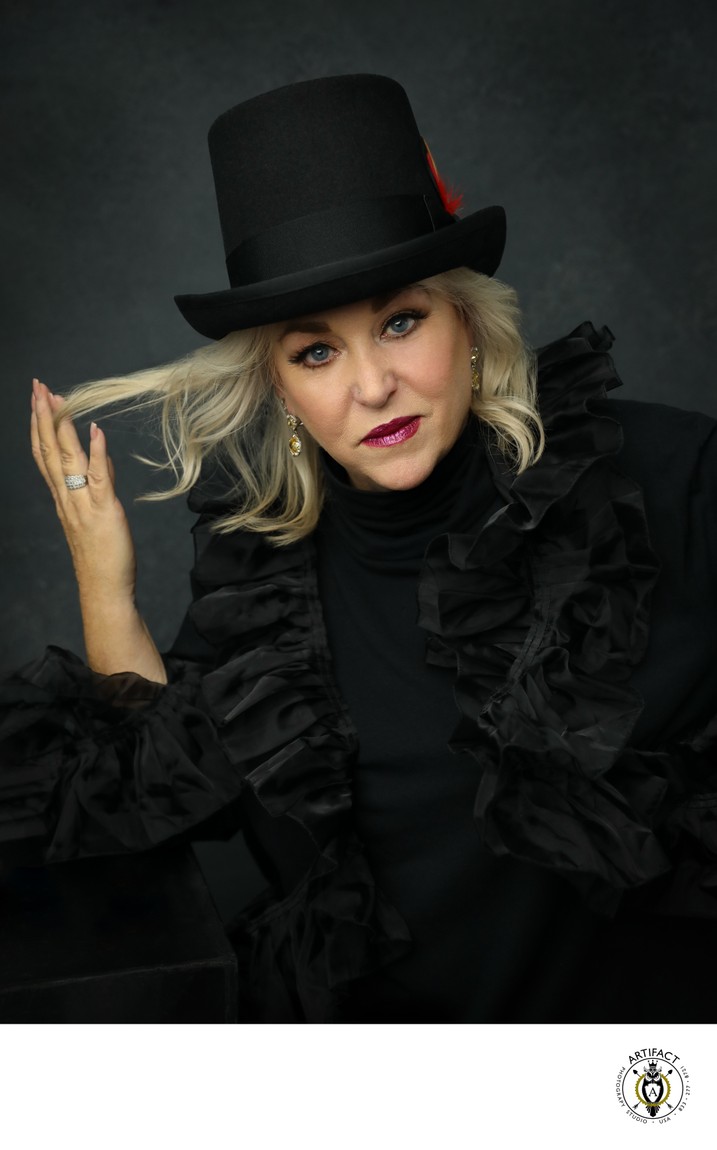 Studio Strobes | Hand painted backdrop by Michelle Beaumont Owens
Makeup by Renee Rodriguez of Radiate with ReneeJ
Location: Tucson, Arizona.