#30 of 50: Karen Northcutt
Retired technology professional
Artist, Poet & Writer
Karen observed that some of the most important things in life can happen in 2 to 3 seconds. If she could have any superpower she'd like to be able to press a universal pause button that would allow her to take in what just happened, whether the temporary hold provides time to mull over what action to take, or just have the opportunity to enjoy the moment again before proceeding in real time.
Karen would have liked to employ this superpower during her recent Alaskan cruise. And even though some of the hidden fees that popped up came as a bit of a surprise, Karen doesn't regret any additional dollars spent on what she considers, "A trip of a lifetime." She marveled at all the sights from the majestic landscapes to the plentiful wildlife living their best lives in the sea, land and air. To her particular delight, three Orcas swam alongside the ship for a while. Karen also marveled at the silence. Karen didn't know why she thought Alaska would be noisy like a tropical rain forest but the uniqueness of the sound of silence is a real phenomenon.
One of the interruptions to the persistent silence was caused by humongous chunks of icing falling from a melting glacier into the ocean. The blocks of ice hit the water like a sonic boom while also sending splashes of water into the air that vaulted almost higher than the highest desk on the ship. This occurrence is not common but Karen just happened to be in Alaska during a heatwave. It was a balmy 74 degrees and she didn't need her various coats until she went on a mine tour in Juno. That outing was indeed very cold. Karen remarked that she was happy she didn't take the excursion by smaller boat to get closer to the glaciers. "What do you need to do that for?" Karen asked with a laugh. "I didn't even want to get close to the rail. It's a long way down to the water. I was just fine staying in the middle of the deck."
Karen retired in May of 2022 from a technical position at Securaplane. She's still getting used to not working five days a week. And she still finds herself thinking about certain aspects of her prior position, but she is slowly making the mental adjustment that she now has all the time in the world to do the things she loves most, in particular painting, writing, gardening and cooking.
Karen has started writing her family's memoirs. She wants to ensure that her ancestral knowledge is recorded as a legacy to pass down to future generations. Karen's lineage is Native American. Her mother was Choctaw and Irish. Her father was Cherokee and English. Her grandmother's family made the treacherous forced march from South Carolina to Oklahoma, a tragedy that is now called The Trail of Tears.
At the beginning of the 1830's nearly 125,000 Native Americans were forcibly relocated from their ancestral lands in the south and southeastern states to "Indian territory", what is now Oklahoma. The Choctaw became the first nation to be expelled from their land and they were forced to walk hundreds of miles chained, without food, or supplies, or assistance from the government. Thousands of Choctaw died along the way. A Choctaw leader was quoted in an Alabama newspaper calling the relocation, "a trail of tears and death." The story of Karen's family is riveting and I was all ears as she talked about the lives of her parents, grandparents and great grandparents.
Karen enjoys spending time with her two daughters, son, and her grandchildren. She is very excited that a great grandbaby is on the way. She'd like her next trip to be to Hawaii, a new destination for her. Karen caught the cruise bug in Alaska. She's keeping an eye out for a swinging deal on a Hawaiian cruise. And she'll have many more reasons to want to use the universal pause button as she commits those experiences to her long term memory.
P.S. April Anderson is Karen's daughter. They were the only mother and daughter to participate in the project. They shared their photoshoot day together and it was a wonderful experience spending the day with them capturing their memories in the studio.
Read more about Karen, and see additional portraits from her photoshoot, upon the release of the Wise Women: The 50 over 50 Magazine later this year.
You are invited to attend the Wise Women Portrait Gala on Thursday, October 13th at the Savoy Opera House in Tucson, Arizona from 5-9 p.m. Parking is plentiful and free and there will indoor and outdoor seating. Each participant will be featured in a creative portrait on display in the art exhibit. Buffet dinner, no-host bar, music, dancing, magic and a raffle will be part of the evening's festivities celebrating these fabulous women. Purchase tickets here on Eventbrite.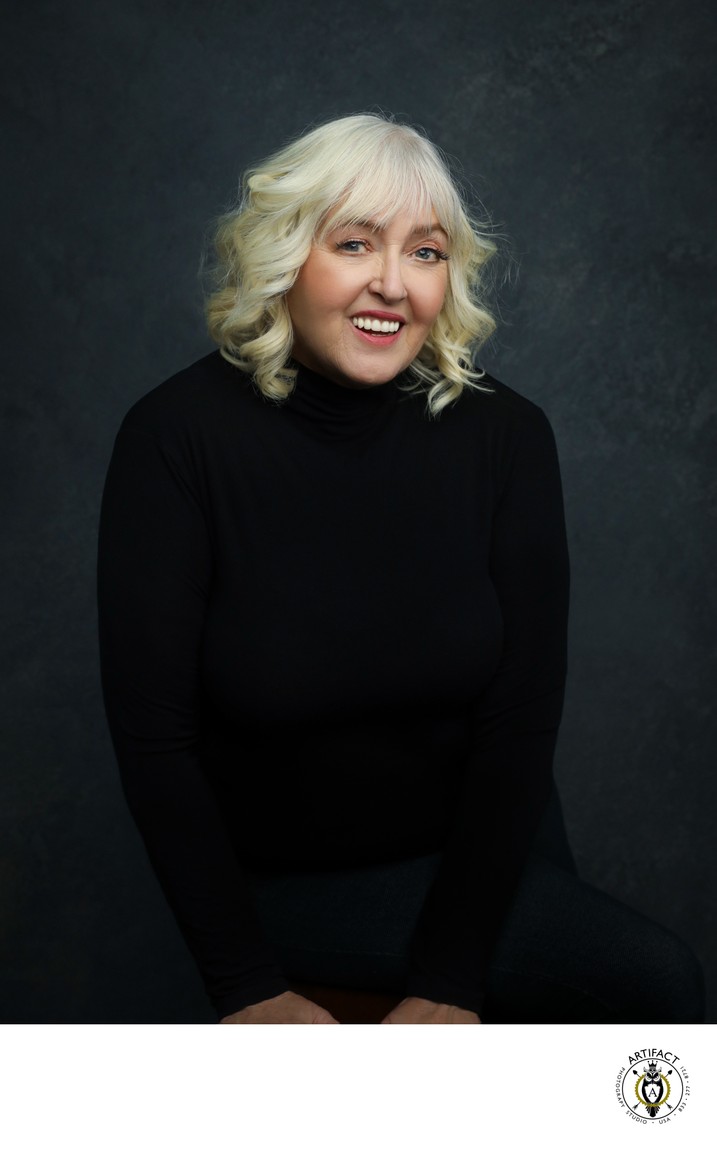 Studio Strobe and Natural Light | Hand painted backdrop by Michelle Beaumont Owens
Makeup by Renee Rodriguez of Radiate with ReneeJ
Location: Tucson, Arizona.