#3 of 50: Devi Paolillo
Devi is always ready with a cheerful smile and a quick laugh. Right off the bat you'll notice her large blue eyes that have a gentleness to them and a sparkle. If you're at a networking group together, Devi's happy to take a new person around and introduce them to everyone she knows. She says, "I have a terrible memory for when I meet people, I just think I've always known them." And it really is that quick to form a friendship with Devi. Once you are in her orbit, it's like you've known each other forever.
Roughly one out of every six small businesses in Arizona have closed their doors for good since the start of the COVID-19 pandemic. Sadly, Devi's business was one of them. For nearly 11 years Devi was a franchisee for Mathnasium. She had a learning center in Marana that taught kids math in a way that helped them love math, not hate it. Some of her students eventually became employees, which was a wonderful feeling for her, to see their skills progress from being students to becoming tutors. When a student becomes confident with math it positively affects how they perform with other subjects like science and literature. She felt intensely torn closing the business because of the potential negative impact on children's lives in the community.
Devi is looking to embark upon her next professional adventure. While she explores opportunities she has been content to pursue some of her favorite hobbies while she sheltered from the pandemic at home with her husband, Miles. She finished a beautiful quilt for her grandson, Julian. In between joining fabric pieces together, she rekindled her interest in baking sourdough bread, and reading books for the pleasure of it.
Reading was a struggle for Devi growing up. She changed schools every year to two years and did not know she had a reading disorder until after she finished her masters. Yep, you read that right. In her early thirties, Devi was working for an eye doctor who needed to test some new equipment to provide Vision Therapy for patients. Devi was handy so he took her through the process. The test revealed that Devi couldn't read well. The doctor was surprised and Devi got defensive. Once they got past their initial reactions, Devi went full steam ahead with the therapy. Doing the eye exercises changed her life. There were times at Mathnasium when kids would be struggling and she could sense something wasn't quite right but couldn't quite put a finger on it. That's when she'd recommend that parents take their child for a vision therapy test.
"It was a game changer," Devi said. "My vision was always 20/20 but my eyes did odd movements that I didn't sense and no optometrist caught. I didn't know what I didn't know. Grade school through college I could pretty much get by just by listening. But for my masters I had to read a lot. I had to read with a bookmark, moving it as a guide line by line down the page. Now I understand why people read for pleasure because now I can too."
If you know of a great opportunity for an outgoing, fun, resilient woman who has a degree in Mathematics, a masters in Special Education, who is also a licensed marriage and family therapist, earned a massage therapy certificate, and last but certainly not least, a former small business owner… give her a call. Between her education, business acumen and life experiences Devi will be someone's greatest asset to fill a special niche.
Read more about Devi and her life, and see additional portraits from her photoshoot, upon the release of the Wise Women: The 50 over 50 Magazine later this year.
You are invited to attend the Wise Women Portrait Gala on Thursday, October 13th at the Savoy Opera House in Tucson, Arizona from 5-9 p.m. Each participant will be featured in a creative portrait on display in the art exhibit. Buffet dinner, no-host bar, music, dancing, magic and a raffle will be part of the evening's festivities celebrating these fabulous women. Purchase tickets here on Eventbrite.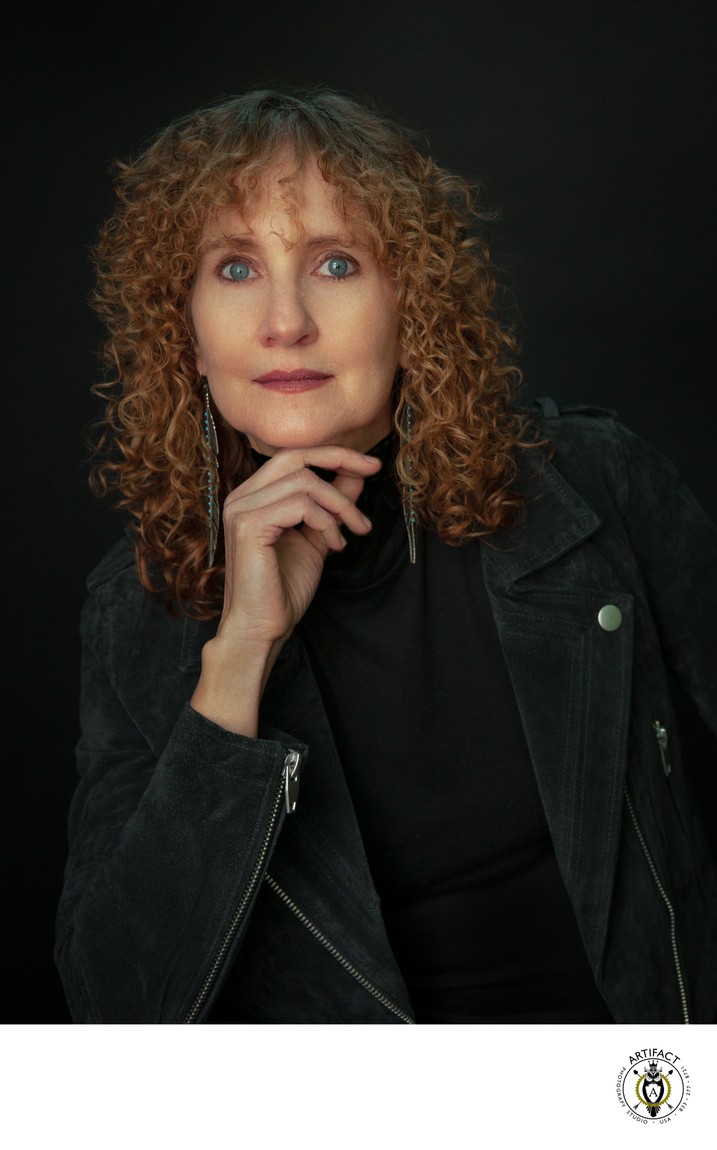 Natural Light | Black V-Flat
Location: Tucson, Arizona.