#29 of 50: Mia Reavis
High School Language Arts Teacher in Benson, Arizona
Owner of Hozro Ranch, LLC
When asked what she does the old-fashioned way, Mia states, "Just about everything. I'm a traditionalist."
Before moving to the Language Arts department at Benson High School, Mia was the culinary arts teacher for a decade. One of the highlights of Mia's curriculum was working with her students to provide a five-course meal for the public every other week. "We'd make a calendar with our meals for the semester, and within a week we'd be sold out." They were well-known for pesto, homemade bread, and a whipped, light-as-air cheesecake.
In addition to being a teacher, Mia is an accomplished horsewoman. She is the owner and operator of Hozro Ranch Riding Group. The private riding club is capped at one hundred members. Nearly every Sunday, Mia leads backcountry riding excursions for intermediate and advanced riders. Follow Mia on Facebook to see all the beautiful backcountry of Arizona she traverses on horseback. The scenery is exceptional.
In addition to the weekly rides, Mia would like the opportunity to do more cattle work with her horses. In 2021, Mia was ecstatic to be the Rockin JP Ranch Fall Series Team Sorting Champion. A Facebook post from 2020 provided photos and a recap of Mia working with a group of cowboys to "Gather a heard of cows, sort off all the mamas, brand, castrate, and vaccinate the calves." How many women do you know who can do that kind of work?
Keep an eye out for Mia at regional horse-related events. This year, Mia was a horse marshal for the Tucson Rodeo Parade. She enjoyed the event so much that she plans to participate again next year.
Read more about Mia, and see additional portraits from her photoshoot, upon the release of the Wise Women: The 50 over 50 Magazine later this year.
You are invited to attend the Wise Women Portrait Gala on Thursday, October 13th at the Savoy Opera House in Tucson, Arizona from 5-9 p.m. Parking is plentiful and free and there will indoor and outdoor seating. Each participant will be featured in a creative portrait on display in the art exhibit. Buffet dinner, no-host bar, music, dancing, magic and a raffle will be part of the evening's festivities celebrating these fabulous women. Purchase tickets here on Eventbrite.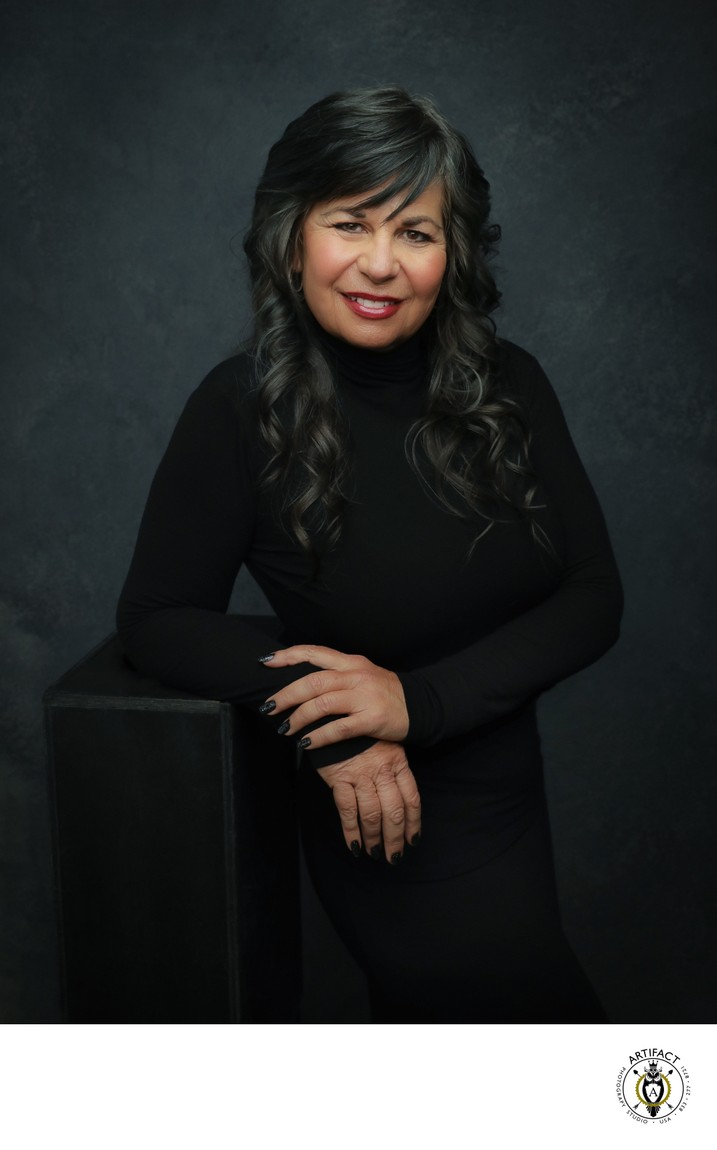 Studio Strobe and Natural Light | Hand painted backdrop by Michelle Beaumont Owens
Makeup by Renee Rodriguez of Radiate with ReneeJ
Location: Tucson, Arizona.