#27 of 50: Kathleen Phillips
Retired School Counselor and 4th Grade Teacher
"Kind is a person who does kind things without the hope of getting recognition. Nice is the person who needs recognition in order to feel they did nice things. Nice is the friend who tells you that they think your significant other is great even though they know otherwise. Kind is the friend who tells you the truth even if it means hurting you. Niceness is something that can be faked. Whereas kindness comes from the goodness of your heart. Kindness is done out of selflessness." –Rachel Rutledge
The governing principle of Kathleen's life is to model kindness and to educate others, in particular, children about the importance of being kind. Although let's admit that adults need reminding of the importance of being kind, too. Perhaps that's the issue in a nutshell, not enough adults are modeling kindness and serving as good examples for everyone in their circle of influence, including children.
When one contemplates whether the internet is a net positive or a net negative, one can easily draw the conclusion that it's a net negative due to all the awful news stories, and the seemingly pervasive meanness of comments and exchanges between people on social media. On a daily basis humankind is trading in unkind acts and for those of us that can remember a time without computers, we tend to think those simpler days were better. History, of course, is comprised of thousands of years of humans waging war and participating in unkind acts upon each other, so perhaps it is a revolutionary act to be purposefully kind especially when someone has been unkind to you.
Kathleen's career was in education, first as a 4th grade teacher and then the last decade was spent as a school counselor before her retirement. In her role as a school counselor, she was able to focus on bringing the principals of kindness to her school. She was success in working with teachers to incorporate teaching kindness in their classrooms. Kathleen was also able in her role as counselor to return to the classroom to teach kindness classes to students.
Kathleen led the charge in bringing the Ben's Bells project to her school. Ben's Bells mission is to, "Teach individuals and communities about the positive impacts of intentional kindness and to inspire people to practice kindness as a way of life." Kathleen led the fundraising initiate to install a Be Kind mural at the entrance of the school so it could serve as a reminder for all who walked past it to engage in kindness. The murals are constructed of brightly colored mosaic tiles and are constructed in the shape of a large 10' x 10' flower or an 8' x 7' tree. The Ben's Bells organization is also receptive to designing custom murals for schools and organizations.
Kathleen is the mother of two adult sons. She and her husband, Bucky divorced when the twins were two. And while it wasn't easy–no part of having twins, working full time and co-parenting with an ex– Kathleen managed to reduce as much stress as she could simply by being kind to Bucky and working cooperatively with him to achieve their family's goals. In the days before Gwyneth Paltrow became associated with the term "consciously uncoupling", Kathleen and Bucky did just that before the celebrities were touting it.
My favorite part of this story is when Kathleen and her partner, Jeff met a woman that they both thought would be a great girlfriend for Bucky. They called that one correctly. The foursome ended up best friends. The two couples spent every holiday together and went on vacations together until Bucky's sudden and untimely death. The twins thought the vacationing together was a bit odd, but Kathleen said, "Bucky and I had been divorced so much longer than we were ever married, and just because we were divorced that didn't not stop us from being family."
The work of doing kindness consists of keeping kindness active and making it a part of your everyday culture. –Ben's Bells
Read more about Kathleen, and see additional portraits from her photoshoot, upon the release of the Wise Women: The 50 over 50 Magazine later this year.
You are invited to attend the Wise Women Portrait Gala on Thursday, October 13th at the Savoy Opera House in Tucson, Arizona from 5-9 p.m. Parking is plentiful and free and there will indoor and outdoor seating. Each participant will be featured in a creative portrait on display in the art exhibit. Buffet dinner, no-host bar, music, dancing, magic and a raffle will be part of the evening's festivities celebrating these fabulous women. Purchase tickets here on Eventbrite.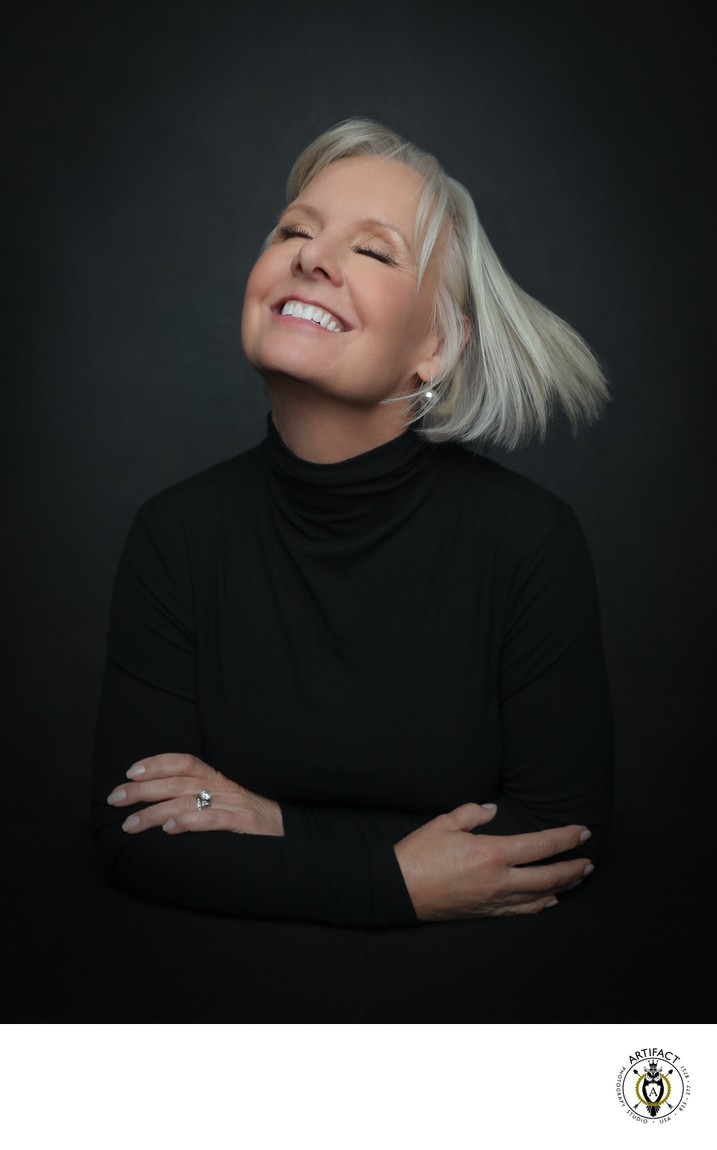 Studio Strobes | Black V-Flat
Hair and makeup by Erika Christine Aguirre.
Location: Tucson, Arizona.