#25 of 50: Francesca Bryan
Care Coordination Chief of Southern Arizona Healthcare System - Veterans Administration (VA)
It's a natural progression in life to think about legacy as we age. It's been top of mind for Francesca the last couple of years. She recalls earlier in life being defined more about her career choice and performance at work. As Francesca has aged, she has noticed that legacy is now defined for her in the cultivation of meaningful human connections. She said, "I'm finding that I still love my job and I enjoy what I do but my focus is now on who am I as a person and how do I better serve my three sons, my husband, patients, church family and the community of Tucson."
Francesca continued her line of thought, "I hope that when I've had an opportunity to spend time with someone that they part from me feeling better for that time spent with me, whether it's helping them see their own inner beauty, or perhaps it is feeding them, clothing them, and providing healthcare. When they leave, my intention is for that encounter to be meaningful. I want to put light in the world and show that one person can make an impact on the world. When you touch even one person positively that act of kindness can take root, grow and spread from one person to another."
Helping Veterans is a passion for Francesca. In her role with the Veterans Administration, she leads the department responsible for the continuum of care for Veterans from admission through discharge. "My department provides case management, discharge planning, arranges community and home support services. We also ensure that gaps in care are reduced or eliminated to keep Veterans home as long as possible and can manage chronic disease with support and that we provide direct contact when crisis occurs."
As you can imagine, Francesca's important caregiving work is a more than a full-time job, and yet she felt compelled to do more, because that's who she is, a person who feels compelled to do more than what's asked of her. Through Francesca's conversations with the co-pastors of Connections Vineyard Church, Trina Petrash, who is a Veteran (and 50/50 participant), and Dave Petrash, along with Francesca's husband, Bradley Steele, the church founded Warrior Health Connections to provide services, including showers, haircuts, meals and comfort to at risk Veterans.
Additionally, the not-for-profit organization offers free health screenings as well as health and wellness education through partnerships with community academic institutions. In July Warrior Health Connections was devastated by a robbery. The thieves stole all the components necessary to provide showers to those in need. To donate to the ministry, you can do so by clicking here and then click on the "Choose a Fund" drop down menu.
In a view into Francesca's personal life, she and Bradley realized a dream of owning a ranch near the Dragoons, a property where they can commune with nature and tend animals. Currently they have horses and a herd of playful goats. The loving husband and wife team also plan is to add emus, chickens, Guinea fowl and Pea Fowl.
Sometimes I want to ask God why He allows poverty, famine and injustice in the world when He could do something about it, but I'm afraid He might just ask me the same question. | –Unknown
Read more about Francesca, and see additional portraits from her photoshoot, upon the release of the Wise Women: The 50 over 50 Magazine later this year.
You are invited to attend the Wise Women Portrait Gala on Thursday, October 13th at the Savoy Opera House in Tucson, Arizona from 5-9 p.m. Parking is plentiful and free and there will indoor and outdoor seating. Each participant will be featured in a creative portrait on display in the art exhibit. Buffet dinner, no-host bar, music, dancing, magic and a raffle will be part of the evening's festivities celebrating these fabulous women. Purchase tickets here on Eventbrite.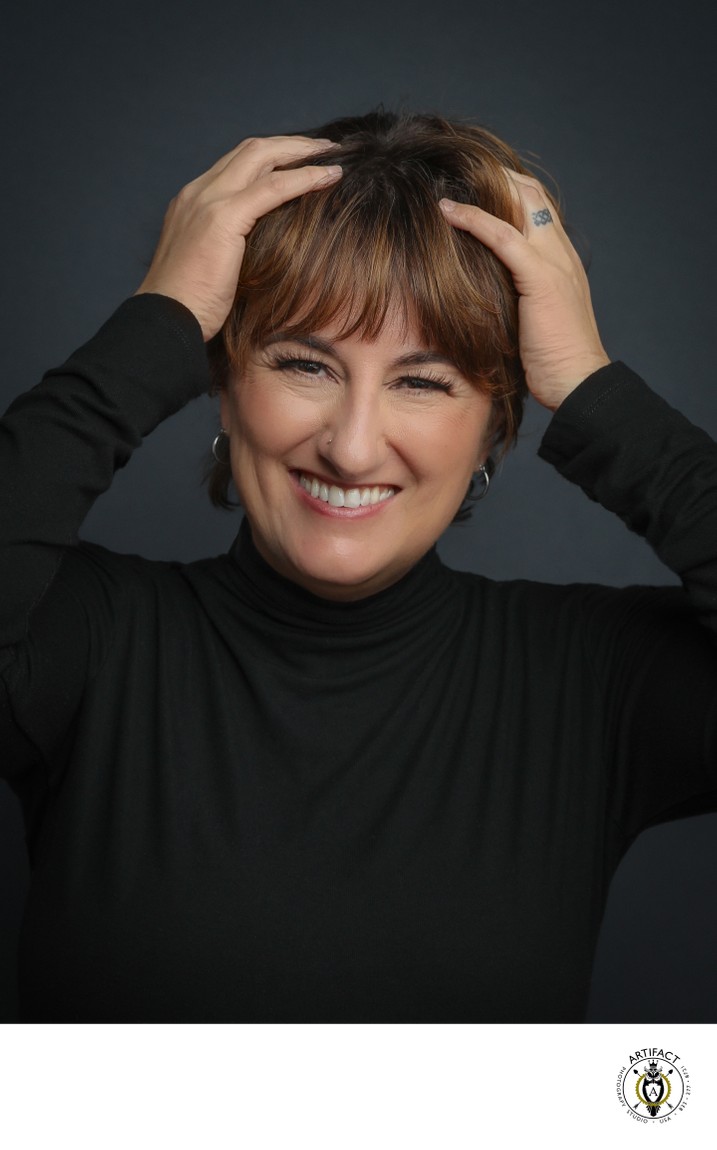 Black V-Flat | Studio Strobes
Professional hair and makeup by Drai of Haus of Dreams.
Location: Tucson, Arizona.