#24 of 50: Jackie Trujillo
Superintendent at La Paloma Academy
Jackie is the Superintendent of La Paloma Academy, a charter school system in Arizona that includes three brands with eight locations spanning from Williams to Phoenix, down to Tucson, and then further south to Douglas. There is also one online school. Before Jackie began working for the school, she was a single mother of three children looking for a safe space for her son and two daughters to be looked after while she worked. What Jackie found was a home away from home, a place where both she and her kids were loved, and looked after, and where they all flourished over the years to come. In turn, Jackie has been able to reciprocate and help parents and children who cross the thresholds of La Paloma's schools looking for a safe space to learn and grow, and to be part of a community that takes care of each other.
Jackie started her career in preschool education. She laughs recalling her younger years and that if her career goals had been left up to her, she'd likely still be working at the preschool where she got her start. However, Jackie's mother, Mary Jo had other plans for her daughter. Mary Jo insisted that Jackie go to college so that's what she did. Jackie said, "My heart is still there with those young kids because you can have a closeness and greater impact on preschool aged children. More so than older children. To this day, being a preschool teacher is my favorite thing that I have done."
Jackie's strength is in building relationships, being present and holding space for people. Jackie said, "In my role as principal and later superintendent, I had to figure out how to lead people who knew so much more than me about teaching. What I needed to do was bring people together with a common vision and common goals. That's what they needed. I know how to be transparent, and I do know how to love people. That's who I am, and that's what I do. I lead with a servant's heart."
Jackie really doesn't care about things at all in a materialistic way. There was a time in her life when she left everything behind, and it changed the way she thought about belongings. Everything can be replaced – a home, furniture, clothes, jewelry, car – but you cannot replace a person. Jackie knows how to work hard and how to earn things. She likes the things money can buy but only if those things help build relationships and bring her friends and family come together, such as the pool in her backyard.
That may sound funny, but her backyard is her happy place. If Jackie could wake up anywhere in the world tomorrow it would be in her own bed. The best way for her to start the day is to go outside with her three dogs and enjoy the morning air. And in turn, the best way to finish a day is to go outdoors and let the dogs play and when the weather permits, which is most of the time in Tucson, a swim in the pool with the dogs paddling around is the perfect way to see the sunset. Jackie has no daydreams of travel or crossing-off exotic locations from her bucket list. Jackie travels for business and pleasure when she must, especially because her husband loves adventure and travel, but she's perfectly content staying at home.
Jackie met her husband, Sean Watins at La Paloma. He was Jackie's son's first grade teacher. Sean has three children, too. Initially Jackie and Sean had no interest in a relationship, or having a relationship with someone who had children, but we all know how that goes. Sounds like the perfect premise for a romantic comedy. When they married everyone loved to refer to their combined family as the Brady Bunch. Of course they did. The six kids are adults now, but Jackie and Sean's house is often full with family and friends coming and going and that's just the way they like it.
Read more about Jackie, and see additional portraits from her photoshoot, upon the release of the Wise Women: The 50 over 50 Magazine later this year.
You are invited to attend the Wise Women Portrait Gala on Thursday, October 13th at the Savoy Opera House in Tucson, Arizona from 5-9 p.m. Parking is plentiful and free and there will indoor and outdoor seating. Each participant will be featured in a creative portrait on display in the art exhibit. Buffet dinner, no-host bar, music, dancing, magic and a raffle will be part of the evening's festivities celebrating these fabulous women. Purchase tickets here on Eventbrite.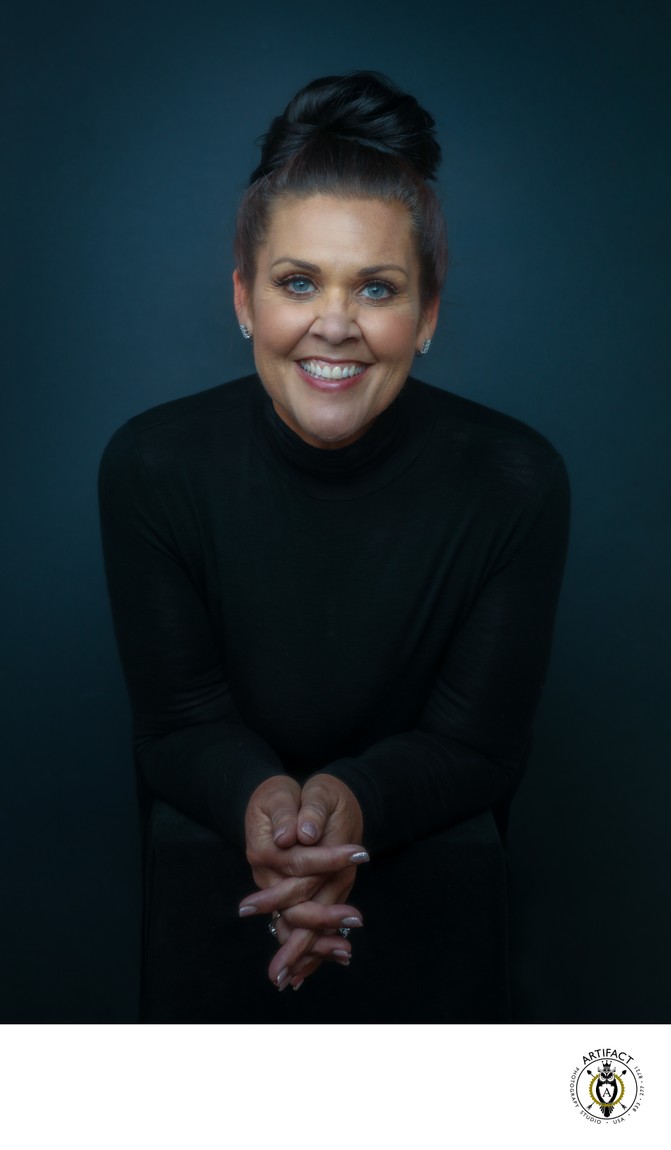 Studio Strobes | Black V-Flat
Makeup by Renee Rodriguez of Radiate with ReneeJ
Location: Tucson, Arizona.