#23 of 50: Jan Froeschle
Professional Dancer
Jan's burning desire is to get herself to Bora Bora, located in French Polynesia, a 50-minute flight from Tahiti. She dreams of staying in one of the picturesque thatch-roofed bungalows that are built on stilts, which provides a perched view over the turquoise water. Guests are uniquely situated to hear the soothing sounds of the waves while also catching sight of sea turtles, tropical fish, and other sea life without having to leave one's personal wooden villa. Guest areas are typically equipped with snorkeling gear and an espresso machine, and Jan will be able to dive into the bathtub-warm water of the lagoon directly from her private deck. Just considering a vacation in Tahiti is like a relaxing meditation.
Until Jan can cross Bora Bora off her bucket list, she is excited to continue to release endorphins by routinely lifting heavy things and putting her dance shoes on. Lifting weights at the gym will also enable her to continue to build strength so she can replenish her soul through the artistic expression and physically challenging sport of ballroom dancing.
One of the highlights of her career was dancing with Dancing with the Stars alum and pro dancer, Sasha Barber. He competed on 8 seasons on DWTS where he danced with celebrities such as Snooki and Tonya Harding. Jan was paired with Sasha when he came to town to participate in Dancing with the Stars of Tucson's fundraising show to support the Diaper Bank of Southern Arizona. This annual fundraising event is important because it helps provide diapers to families who need them but cannot afford them. Did you know that food stamps or the WIC program cannot be used to purchase diapers? One in four children in Southern Arizona don't have access to diapers. For every $1 donated, the Diaper Bank of Southern Arizona can distribute $3 worth of diapers to those in need in Southern Arizona. There are multiple diaper drives throughout the year to collect the 1.4 million diapers that are needed by Southern Arizona's most vulnerable families.
Jan also gets a kick (wink, wink) about dancing on stage with Ramona Daniel to the roar and sounds of the George Howard Band. The band pays frequently at the Gaslight Music Hall to packed crowds that cannot get enough of their, "Music for the Soul" dance parties. I've heard from multiple sources that if you like to dance, you'll love dancing to George and his crack team of musicians. Jan and Ramona have a blast coordinating their outfits for the stage and play into seasonal themes. Go check them out!
Read more about Jan, and see additional portraits from her photoshoot, upon the release of the Wise Women: The 50 over 50 Magazine later this year.
You are invited to attend the Wise Women Portrait Gala on Thursday, October 13th at the Savoy Opera House in Tucson, Arizona from 5-9 p.m. Parking is plentiful and free and there will indoor and outdoor seating. Each participant will be featured in a creative portrait on display in the art exhibit. Buffet dinner, no-host bar, music, dancing, magic and a raffle will be part of the evening's festivities celebrating these fabulous women. Purchase tickets here on Eventbrite.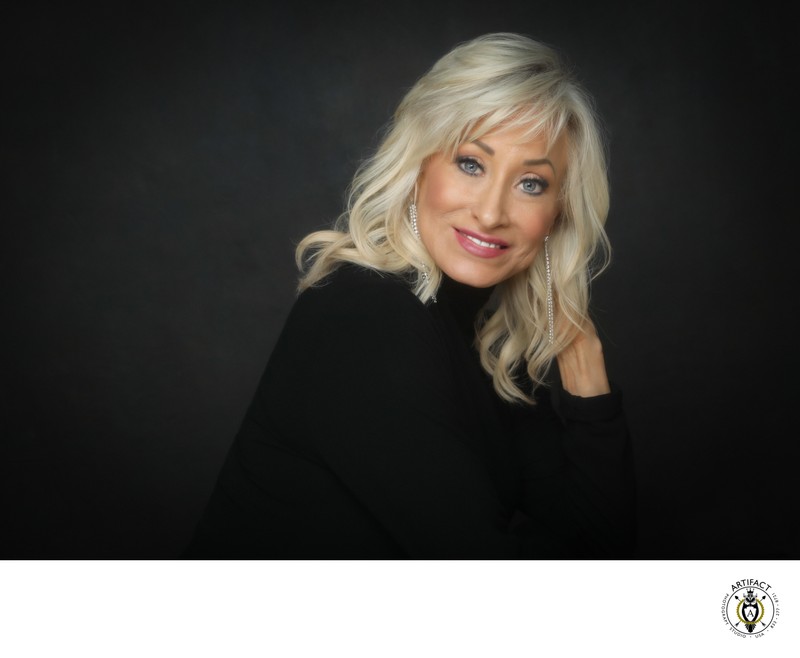 Studio Strobes | Black V-Flat
Professional Hair and Makeup by Renee Rodriguez with Radiate with ReneeJ Makeup and Hair
Location: Tucson, Arizona.