#20 of 50: Karen Van Norman Crandall
Vice Principal at La Paloma Academy
We cannot all do great things. But we can do small things with great love. –Mother Teresa
Karen's life is dedicated to service whether it's caring for her family, showing up for the community in the challenging role of social work, dedicating herself to students as an Assistant Principal at La Paloma Academy, and being a custodian of loving friendship for her tribe for whom she cares so deeply. She feels that her rich life is attributed to her close relationship with God through whom all things are possible. It is her greatest desire to be the hands and feet of Christ and to spread his love through her daily actions. Her perfect idea of happiness is, "Being in God's will."
Karen recently entered her sixth decade of life, and she feels fortunate to have many things figured out, but she finds the old adage true: the more you learn, the less you realize you know. The greatest lessen she has learned is perhaps that the greatest thing we will ever learn is to love and be loved in return.
She has found the love of her life with her third husband, Jim. The two have blended their families together beautifully. Karen's children include two sons from her first marriage, two stepchildren from her second marriage, and Jim's daughter, who is married and has two young daughters. Karen refers to her granddaughters as, "My sun and moon."
Jim's daughter, Stephanie wrote on social media in celebration of Karen's birthday, "Happy birthday to this magical unicorn of a human being! A woman that didn't HAVE to love me but 1,000% did! That continues to be a rock and so much of who my daughters and I am! Who has taught unconditional love not just by giving it to me but by being an example of it in so many endless ways! A lot of people aren't lucky enough to have a woman like this in their lives, but me, well I get to call her MOM! If you haven't wished this beautiful unicorn a happy birthday yet, please do. We love you!"
I don't know about you, but that gave me all the feels. If Karen could change one thing about herself it would be her tendency to cry. Whether she's happy or sad she is easily moved to tears. But come on; Stephanie's birthday wish made me tear up too.
Karen remarks to me that she has little drama in her life. Her current emotional state is to live with the intention of feeling peacefulness and happiness. She says, "I work at being joyful regardless of my circumstances. Going through COVID-19 was difficult and I did wrestle with depression, but I knew I would fight through it, and I did."
On weekends Karen loves to spend time outdoors tending to the green things in her yard. She finds it difficult to abstain from buying more plants. If there's an empty pot it must be filled. She also is talented with her hands. Karen can make, craft, refinish, design and build just about anything. Karen remarks that she can't retire because she'd probably remodel every room in her house three times and drive her husband crazy.
Read more about Karen, and see additional portraits from her photoshoot, upon the release of the Wise Women: The 50 over 50 Magazine later this year.
You are invited to attend the Wise Women Portrait Gala on Thursday, October 13th at the Savoy Opera House in Tucson, Arizona from 5-9 p.m. Parking is plentiful and free and there will indoor and outdoor seating. Each participant will be featured in a creative portrait on display in the art exhibit. Buffet dinner, no-host bar, music, dancing, magic and a raffle will be part of the evening's festivities celebrating these fabulous women. Purchase tickets here on Eventbrite.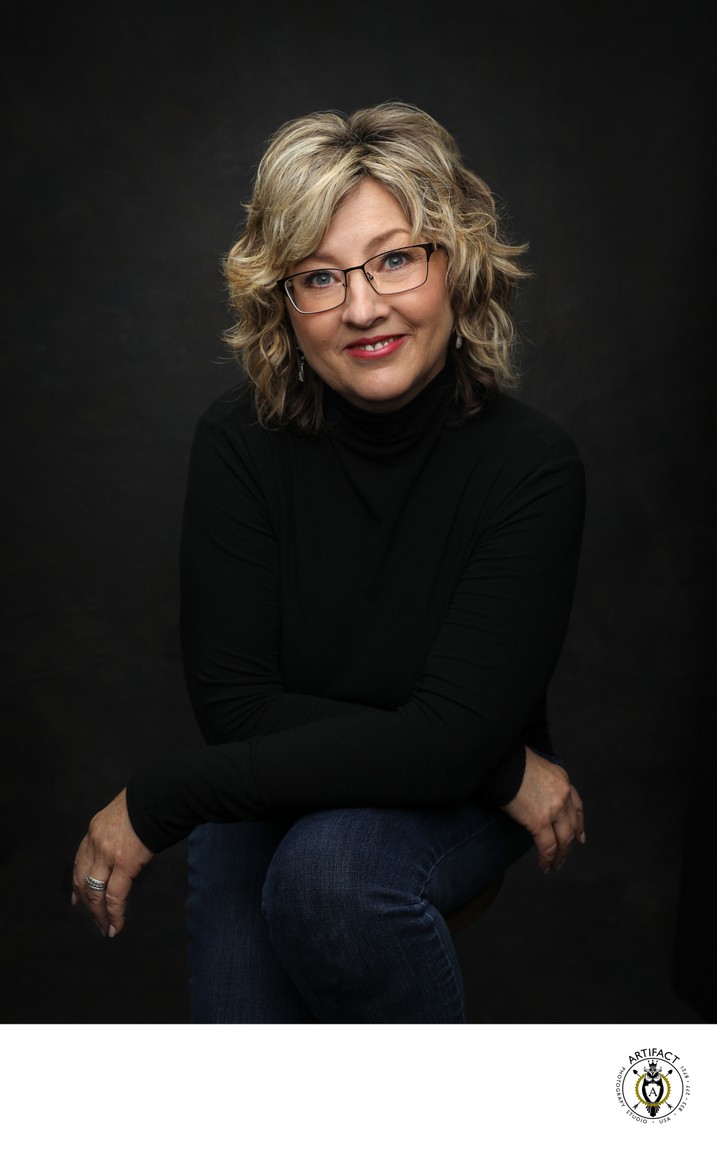 Studio Strobes | Black V-Flat
Professional hair and makeup by Erika Christine Aguirre.
Location: Tucson, Arizona.