#19 of 50: Stefani Valenzuela
Firefighter at Golder Ranch Fire District
Owner BBQ Junkies
Stefani Valenzuela is a blonde-haired, blue-eyed, firefighting, tattoo-loving, stiletto-wearing, award-winning BBQ pit boss who is recently single—the mother of three adult sons and one fur baby pug and grandmother to two teenage boys and one tween girl. Stefani's favorite curse "word" is a phrase, "rats on a stick," and a close second is "biscuit-eating bullfrogs." When one says the word "grandma," she's not the quintessential picture that would likely jump into our collective minds.
With all those distinctive traits, one would think Stefani is an extrovert. She's not. You might even go so far as to call her shy. Ask her a question and she's quick to laugh, which gives her a few beats to decide how she will answer.
When people ask Stefani what she does for a job and she replies, "EMT firefighter," she knows through experience that nine times out of ten, the other person will look stunned like a cartoon character displaying a gawking mouth and bulging eyes. She says, "Normally, they think that I am a secretary at the administrative offices." While she may be petite, Stefani assured me that to pass the test and get hired as a firefighter, she had to do the exact same thing that the men do. "There's no girl ladder or guy ladder; all the ladders weigh the same. And all the equipment weighs the same." She guesstimates that the fire protective gear, including air tank, weighs about 50 to 60 pounds, which is about half her body weight.
Stefani recommends that every woman keep up with routine mammograms. In 2019, her mammogram caught pre-cancerous cells. She has been vigilant with mammograms due to a family history of cancer. A lumpectomy was performed, and now she's in a five-year plan under the watchful care of an oncologist. She also takes a drug that she calls her "anti-cancer medication." Stefani affirms that she feels very lucky. We can all agree that early detection is everything, especially when cancer is in the equation.
Stefani has fed the people she loves since she was a teenager. Years ago, she caught the BBQ bug and she excels at smoking meats—among her favorites are brisket and ribs. In fact, the first year she competed at the Tombstone Rib Showdown, she won first place for brisket! But believe me, you'll be craving her ribs, too, after just one taste. Rounding out the meals Stefani prepares are tasty sides and delicious desserts, such as tres leches cake. Hungry yet? Find BBQ Junkies on Facebook and Instagram and book Stefani for your next party. Make sure to order extra for leftovers. As sure as the sun rises in the sky, I want a freezer full of her smoked brisket.
If God exists, when Stefani arrives at the pearly gates, she would like to hear God say, "Welcome! The coffee bar is open."
Testimonial:
I don't feel like I'm very photogenic, and I usually hide when any sort of pictures are being taken. I was nervous before my session with Michelle, but as the photoshoot progressed, I became more and more comfortable. It was also the first time I'd had my hair and makeup professionally done, which felt special. It was like a spa day with pictures. I felt totally pampered, which I don't do enough of for myself. I brought some of my own clothes, but I also chose items to wear from Michelle's studio wardrobe. After a while, I embraced the experience and had a blast playing dress-up. The day was so much fun, and I had great experience. –Stefani Valenzuela
Read more about Stefani, and see additional portraits from her photoshoot, upon the release of the Wise Women: The 50 over 50 Magazine later this year.
You are invited to attend the Wise Women Portrait Gala on Thursday, October 13th at the Savoy Opera House in Tucson, Arizona from 5-9 p.m. Parking is plentiful and free and there will indoor and outdoor seating. Each participant will be featured in a creative portrait on display in the art exhibit. Buffet dinner, no-host bar, music, dancing, magic and a raffle will be part of the evening's festivities celebrating these fabulous women. Purchase tickets here on Eventbrite.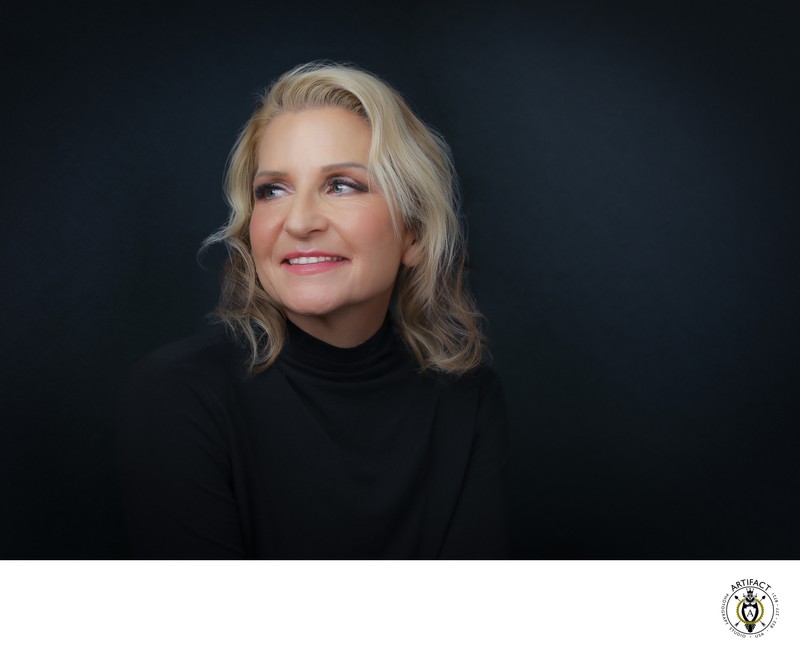 Studio Lighting | Black V-Flat
Professional hair and makeup by Erika Christine Aguirre.
Location: Tucson, Arizona.