#17 of 50: Linda Wilson
Retired Elementary School Teacher
Linda had some trepidation leading into our interview because she was sure that there wasn't anything very interesting about herself. This wasn't a negative statement; just subjectively observational and self reflective. Over the course of her life Linda has done all the things she was expected to do (and more) in anticipation of having a wonderful life. She received an education, went to church, became a teacher, paid her taxes, married, bought a home, traveled, made art, produced two children, a son and a daughter, who also became educated and productive adults, and who in turn became responsible parents. Linda retired from teaching after 30 years of dedicated service to first, second and third graders. Then came the surprise of her lifetime. She and her husband divorced.
Divorce for couples in the later stages of their lives is not as uncommon as the general public might think. It is even estimated that over a third of couples in their 60s decide to divorce. While it is never easy to divorce, the older we become the more we realize that the price of the pain of splitting up may very well be the price of the ticket to experience a happier life. If all people who are miserable could find a way to be happy, the world would be a much better place. Actively choosing happiness is a choice we can make.
The Phoenix metaphor for the fifty over fifty project fits Linda perfectly. Unshackled after the divorce, Linda rose like a Phoenix from the ashes, renewing herself, and her zest for life. She's alone but she's not lonely.
One of the things Linda has fallen in love with is her electric bike. She's impatiently waiting for the weather to turn cooler so she can resume riding with her neighbor, who introduced her to the benefits of motorized bicycles.
The best way to spend time with Linda is to join her for a session of making art. In particular, she loves making greeting cards for birthdays, anniversaries and other special occasions. In fact, fellow 50/50 participant, Nancy Jones gets together with Linda to make cards and other products from paper. The cards they make are gorgeous and beautifully detailed.
Linda also adores her four grandchildren and she looks forward to spending time with them regularly. They live in Phoenix so she drives up to give her kids a reprieve from parenting duty for a night of two. She remembers what it's like to be a working mom. It can also be tiring to keep up with her grandkids but it is such a joy that she wouldn't have it any other way.
Read more about Linda, and see additional portraits from her photoshoot, upon the release of the Wise Women: The 50 over 50 Magazine later this year.
You are invited to attend the Wise Women Portrait Gala on Thursday, October 13th at the Savoy Opera House in Tucson, Arizona from 5-9 p.m. Parking is plentiful and free and there will indoor and outdoor seating. Each participant will be featured in a creative portrait on display in the art exhibit. Buffet dinner, no-host bar, music, dancing, magic and a raffle will be part of the evening's festivities celebrating these fabulous women. Purchase tickets here on Eventbrite.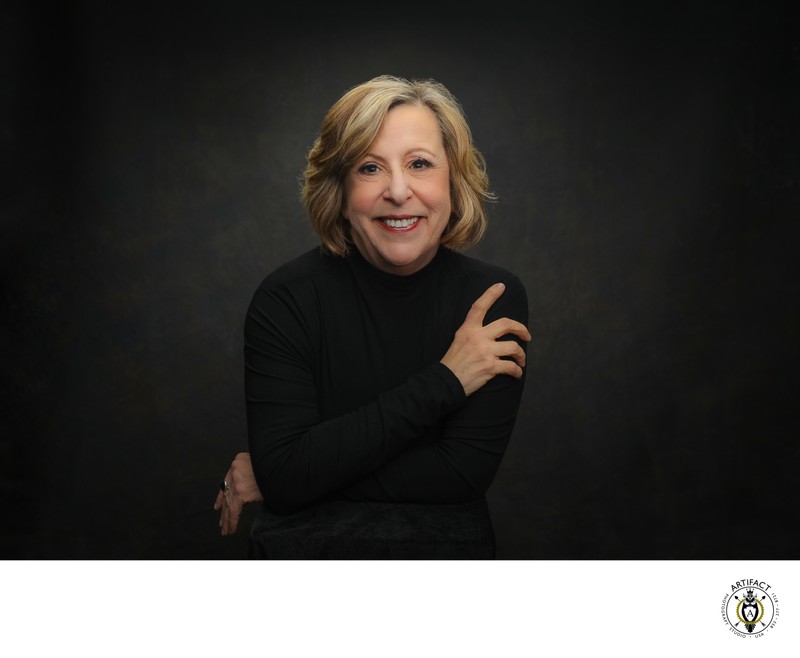 Studio Strobes | Hand painted backdrop by Michelle Beaumont Owens
Professional hair and makeup by Erika Christine Aguirre.
Location: Tucson, Arizona.