#16 of 50: Beth Keil
Board Certified Hypnotherapist and owner of Beth Keil Hypnosis Services
Registered Nurse
Sexuality Thought Leader and Contributor at Kuel Life
When Beth arrived for her photoshoot, she looked relaxed and only had a couple items on hangers that she casually brought in and hung on the studio's clothing rack. More often than not, clients tend to arrive at the studio looking like they have packed for a three-week European cruise, with outfits ranging from workout clothes for yoga on the lido deck, to sundresses for shore excursions, a sparkly number for a black-tie dinner with the ship's captain, and then a little something they may slip into for a nightcap before bed in the ocean view suite.
When I asked Beth if she needed assistance bringing in the rest of her "stuff" from the car, Beth calmly replied that what she had in hand was all she had brought. She said, "I'll just let you do your thing. You have tons of clothes and accessories. We'll just work with what we have." Beth said these words seemingly without a care in the world. And that's Beth in a nutshell. She'll let the universe unfold for her exactly as it should and have complete trust in the process.
And you know what? The day unfolded beautifully. We had fun and laughed while the hours slipped away. We played with various lights and sets. We mixed her clothing with my mine to create a variety of looks. In the weeks leading up to her photoshoot Beth came over to give to me many yards of gold fabric that she had initially intended to make into curtains many years ago. She wondered if I might be able to make use of the fabric during the photoshoot. Challenge accepted! I got inspired to "make" a dress for her by draping, winding and pinning the shimmering fabric into place around her body. I fashioned a belt using long beaded necklaces. Beth accented the dress by wearing a three tiered beaded necklace that her mother had made for her. I finished the look by placing a halo-style crown upon her head that I had made for occasions such as this. And, voila! Beth's prediction became reality. We worked with what we had, collaborated, and companionably made gorgeous portraits together.
If you need to find peace to create Zen moments in your life, Beth can help. She is a board certified hypnotherapist. People come to her for a variety of reasons. Something is frustrating them. Perhaps they want to quick smoking, or lose weight, or they want to stop biting their nails. Or perhaps they need to learn how to better manage stress, or need an alternative method to help address chronic pain. Beth can also help clients learn self-hypnosis, an approach that joins mind, body, and spirit to help them make positive changes. Self-hypnosis is also terrific to help relax in stressful situations (think going to the dentist) and it can help with getting a better night's rest. Beth offers complimentary 30 minute discovery phone consultations to explore how hypnosis can help you or someone you know. Beth can also help clients from anywhere using zoom for the sessions.
Beth is the mother to two adult sons. She was thrilled to recently become a grandmother and was able to visit her granddaughter for the first time this past summer.
"Just hold on loosely, but don't let go. If you cling too tightly, you're gonna lose control." –38 Special
Read more about Beth, and see additional portraits from her photoshoot, upon the release of the Wise Women: The 50 over 50 Magazine later this year.
You are invited to attend the Wise Women Portrait Gala on Thursday, October 13th at the Savoy Opera House in Tucson, Arizona from 5-9 p.m. Parking is plentiful and free and there will indoor and outdoor seating. Each participant will be featured in a creative portrait on display in the art exhibit. Buffet dinner, no-host bar, music, dancing, magic and a raffle will be part of the evening's festivities celebrating these fabulous women. Purchase tickets here on Eventbrite.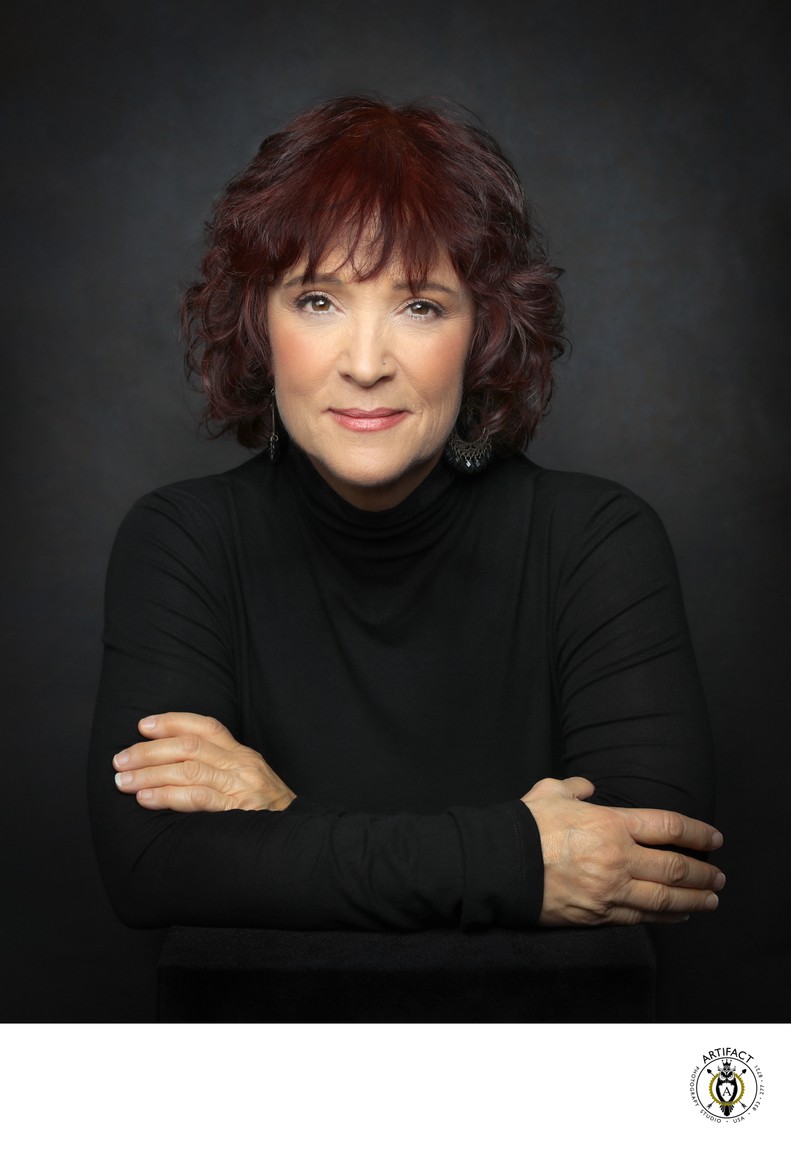 Studio Strobes | Hand painted backdrop by Michelle Beaumont Owens
Professional hair and makeup by Erika Christine Aguirre.
Location: Tucson, Arizona.