#15 of 50: Dr. Nicole Myers
Owner and Acupuncturist at A Peek Within, PLLC
Clinical Whole Foods Nutritionist
Co-Owner of Violet Leaf Skincare
The greatest gift that you can give yourself is to find something that you are naturally adept at and figure out a way to make a living at it. Because if you do that, every day will be a PLAY DAY. You're never battling upstream. You love what you do. And if you love what you do, why would you want to stop doing it? LOVE WHAT YOU DO! –Judge Judy
Dr. Nicole loves what she does and she will continue to find happiness and meaning caring for others for the rest of her life. As a health practitioner, Dr. Nicole's mission is, "to assist my patients in realizing they hold the power in their healing." She's there to help ignite that power and give her patients the tools to make better decisions that impact their health, life and energy. The key is to learn how to heal from the inside out. Every person is unique and their needs must be treated individually.
Follow Dr. Nicole on social media to gain tips on how to improve your health and immune system. She believes that aging is a gift, and that there is an art to aging well, and we should all learn to embrace it. Dr. Nicole wrote in a post, "We are the greatest threats to ourselves. With our self judgement, we can create a perspective that diminishes our capacity to be who we were meant to be. Please don't let insecurities overshadow the beauty you have - inside and out. PEEK WITHIN!" She encourages us to be the best that we can be and to understand that we have the power to enhance our well-being through acupuncture, micro-current light therapy (MLT), Chinese nutrition and taking whole food nutritional supplements and herbs.
If you want to learn how to age gracefully, then you'll want to follow Nicole on social media. As a natural healer she has a plethora of knowledge that she enjoys sharing to help everyone live better through attunement with their bodies and nature. You'll also enjoy tips on gadgets like an infrared stone therapy mat that helps reduce pain. Or learn about Gua Sha, a traditional Chinese medicine practice, that provides a series of benefits by using a massage tool to improve circulation.
Dr. Nicole and Steve, her partner in life and business, co-founded Violet Leaf Skincare in October 2021. For years Steve has battled skin annoyances such as psoriasis, eczema and dermatitis and he wanted to find a treatment that did not require a pharmaceutical prescription. Steve and Dr. Nicole believed the answer could be found in natural ingredients. Through trial and error they formulated a cream to effectively treat the itchy skin conditions that doctors typically address by prescribing topical steroids. Visit the Violet Leaf website to see the amazing results Steve experienced with their uniquely formulated P/E Balm (click here). Additionally they offer 100% organic full body care and facial skin care.
When asked what Dr. Nicole's a sound or noise that she loves, she said, "My son's laughter. He has the coolest laugh, and oh my gosh, I just love that sound." She also enjoys spending time with her extended family, including her two sisters, and fur babies.
At Violet Leaf, we believe that there is no better nurturer than Mother Earth. With that being said, we've devoted ourselves to creating natural, wildcrafted and entirely non-GMO products that rejuvenate and brighten up maturing skin. –Dr. Nicole and Steve
Read more about Nicole, and see additional portraits from her photoshoot, upon the release of the Wise Women: The 50 over 50 Magazine later this year.
You are invited to attend the Wise Women Portrait Gala on Thursday, October 13th at the Savoy Opera House in Tucson, Arizona from 5-9 p.m. Parking is plentiful and free and there will indoor and outdoor seating. Each participant will be featured in a creative portrait on display in the art exhibit. Buffet dinner, no-host bar, music, dancing, magic and a raffle will be part of the evening's festivities celebrating these fabulous women. Purchase tickets here on Eventbrite.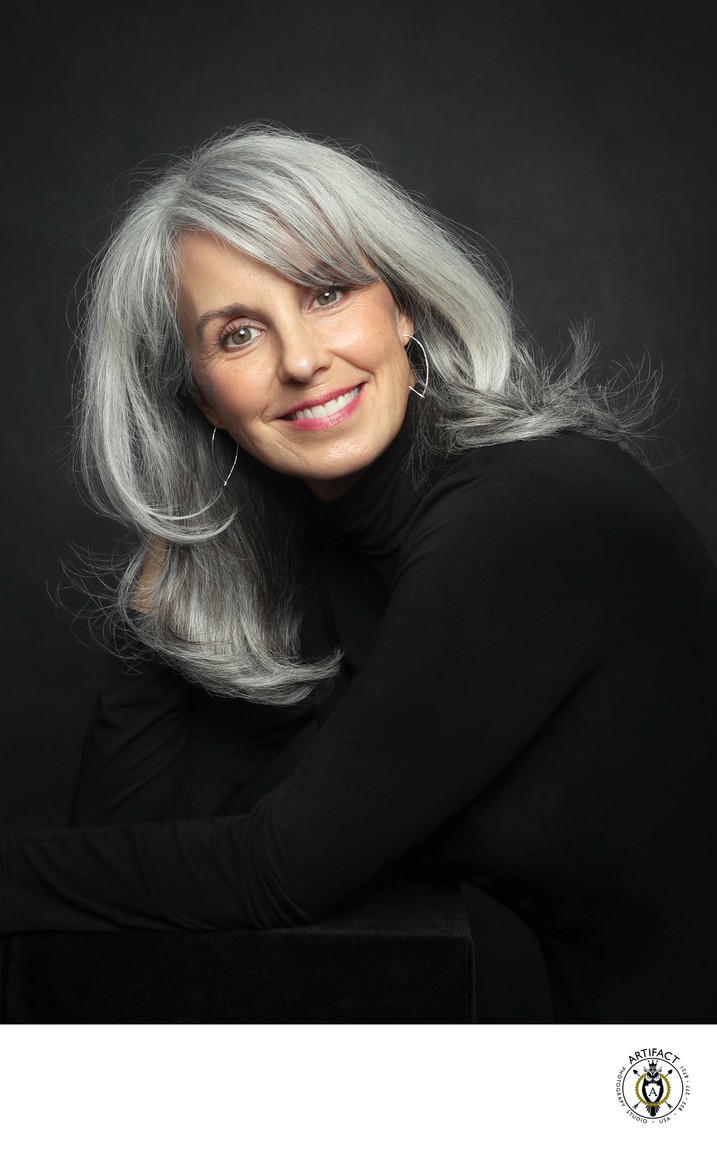 Studio Strobes | Black V-Flat
Professional hair and makeup by Erika Christine Aguirre.
Location: Tucson, Arizona.