#11 of 50: Phyllis Carrasco
Retired and a Yoga Aficionado
That smile says it all. Phyllis is happy, and she knows it, and she's not afraid to share the joy. When asked how she would like people to think of her, she said, "That I'm a character. They can fill in the blanks over time."
Although she is happy living in retirement after a corporate career, she does note that there is a certain amount of stress based upon, "Everything that's happening in the world." When one finds themselves living in interesting times, it is important to stay faithful to practices that keep one grounded. Phyllis's daily practices are designed to keep her mindful of living in the present and to be grateful for her blessings, especially the love of her second husband, John, and her two daughters, her son-in-law's and four grandchildren, all girls.
Her favorite way to start the day is the peaceful practice of going outside with a cup of coffee to experience nature. She often rises early to watch the sunrise, hear the birds begin chirping and feel the energy of an awakening city flow into her being.
Retirement for many doesn't look the same as it did for prior generations. Phyllis maintains a routine schedule through teaching yoga in both private sessions and group settings. Even as a child she recalls being thin, wiry, strong and not afraid of anything. She lets out a big laugh as she recalls as a wee lass being able to wrap her arms around her grandpa and lifting him much to his surprise.
Phyllis grew up in South Dakota and much of her early years were spent in rural areas. She recalls maybe going out to a restaurant twice in her childhood but she recalls fondly that her dad would take she and her sibling to A&W drive in twice a month to give her mom a breather. I bet a lot of will remember the good old days of enjoying root beer floats at the drive-in.
Looking forward, Phyllis and John would like to travel to the Caribbean and Hawaii to bask in all things tropical. And then switching gears, (pun intended, hee-hee), they'd like to embark upon a long sight-seeing road trip across the USA and into Canada with the goal of reaching Niagara Falls.
Read more about Phyllis, and see additional portraits from her photoshoot, upon the release of the Wise Women: The 50 over 50 Magazine later this year.
You are invited to attend the Wise Women Portrait Gala on Thursday, October 13th at the Savoy Opera House in Tucson, Arizona from 5-9 p.m. Parking is plentiful and free and there will indoor and outdoor seating. Each participant will be featured in a creative portrait on display in the art exhibit. Buffet dinner, no-host bar, music, dancing, magic and a raffle will be part of the evening's festivities celebrating these fabulous women. Purchase tickets here on Eventbrite.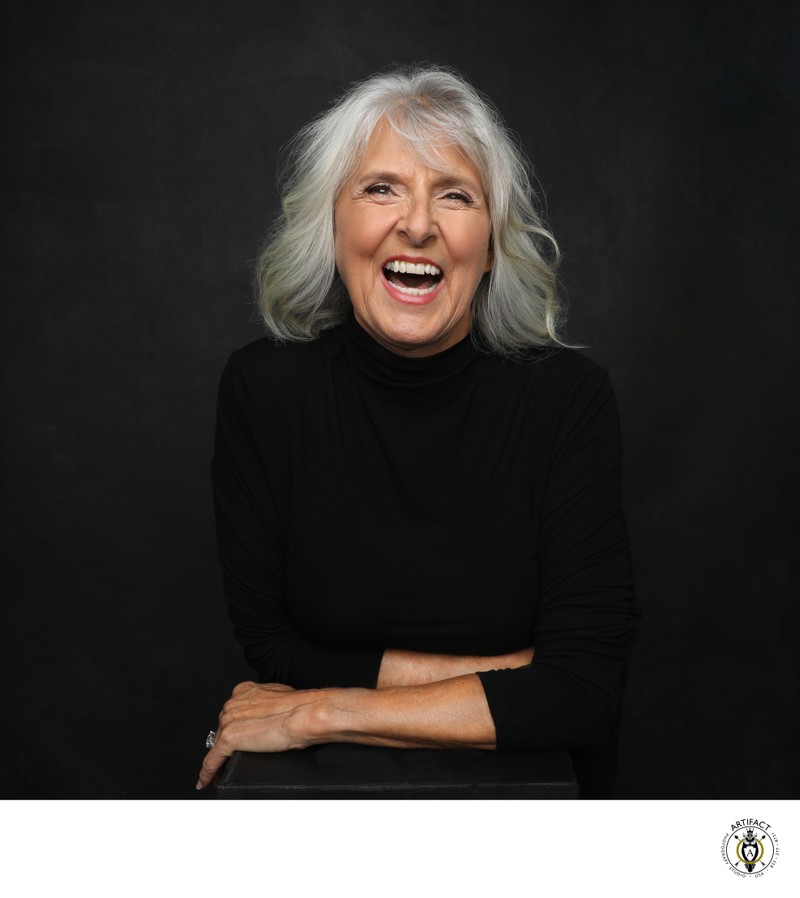 Studio Strobes | Hand painted backdrop by Michelle Beaumont Owens
Professional hair and makeup by Erika Christine Aguirre.
Location: Tucson, Arizona.