#10 of 50: Kathy Lautz
Singer & Musician
Kathy has youthful exuberance about her that is quirky and fun. For her photoshoot she asked to play the role of Eleanor of Aquitaine for a creative set. Her request made my fingers do some walking across my keyboard to consult " The Google". I learned that Eleanor was not only the wife of King of England, Henry II, but she was also married to the King of France, Louis VII. Katharine Hepburn won an Academy Award as Best Actress for The Lion in Winter a film from 1968 whose storyline involves the machinations of Eleanor and Henry over which son should succeed him as King upon his death. Katherine said of Eleanor, "She was tough as nails." Over the ages we women appreciate other women who can hold their own.
Kathy also sent to me inspiration images of Japanese street style, which for anyone interested in fashion, that is a rabbit hole on Pinterest that you can fall down and get lost in for hours. The style is difficult to describe because it can be a mix of retro and vintage-style clothing. Items are often layered. Prints are plaid, floral, animal, stripes and dots. Fish net leggings are often seen adding flair to looks with shorter hemlines. Many of the clothes feature asymmetrical cuts. The colors can be muted but there are also pops of color. It's particularly fun to see women aged 50+ on the streets of Tokyo looking chic. Whatever it is, Tokyo street fashion has flare and is highly enjoyable. My sister sells beautiful kimonos so we were able to borrow some for the photoshoot for Kathy to wear.
And before anyone gets the chance to whisper cultural appropriation, I'll posit here that Kathy was predominately raised in Japan. Kathy said that every once in awhile she gets a hankering to return. Over the years Japan has had a mass exodus of rural families who have relocated to cities to pursue employment. As a result there are gorgeous farmhouses that are abandoned and are available to purchase for cents on the dollar. It's a little dream Kathy likes to dream, but is unlikely to be manifested. She enjoys her home in Tucson and remarks that everyone comments on how comfortable it is and she enjoys that everyone finds it as agreeable as she does.
Kathy's passion is singing. Post Covid-19 she mainly sings in the church's choir. She recently traveled with her church's choir to Wells, England, the location of the first cathedral built in England. It was built between 1180 and 1508 and showcases several Gothic styles. The Wells Cathedral boys choir gets a summer vacation and Kathy's choir were substitutes for a week. How awesome is that?
Kathy was bit early by the travel bug. She's traveled around the world and has traveled extensively in the US. One of her favorite things is to travel with her Airstream. Chat her up about it when you meet her!
Read more about Kathy, and see additional portraits from her photoshoot, upon the release of the Wise Women: The 50 over 50 Magazine later this year.
You are invited to attend the Wise Women Portrait Gala on Thursday, October 13th at the Savoy Opera House in Tucson, Arizona from 5-9 p.m. Each participant will be featured in a creative portrait on display in the art exhibit. Buffet dinner, no-host bar, music, dancing, magic and a raffle will be part of the evening's festivities celebrating these fabulous women. Purchase tickets here on Eventbrite.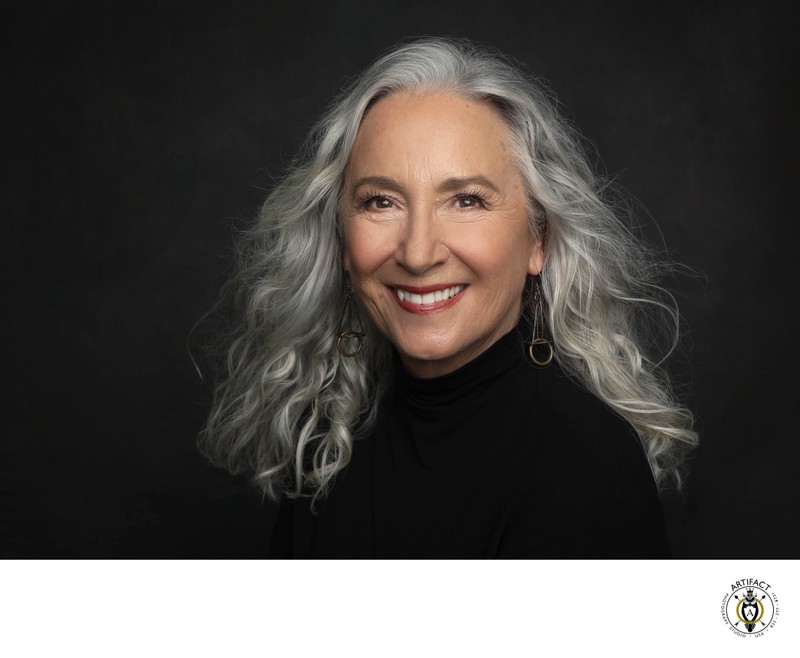 Studio Strobes | Hand painted backdrop by Michelle Beaumont Owens
Professional hair and makeup by Erika Christine Aguirre.
Location: Tucson, Arizona.