Creative Portrait in Red | Savannah
The difference between ordinary and extraordinary is that little extra. | Jimmy Johnson
In the studio there is a long table that is covered with accessories. There's a wide assortment of items: flowers, seashells, feathers, crowns, gloves, fans, stockings, belts and things that bling. And you are either attracted to these things or you are not. Either you want to try everything on and play, or you do not. Mostly people want to play, enjoy a good laugh and have fun. Sometimes people need a little encouragement to have fun, Savannah did not. She was game from the get-go, which I absolutely adored about her.
Nothing was off-limits from animal prints to sequins to black latex. The more outrageous the better. A girl after my own heart. I don't know where my love of "extra" comes from because personally I'm a fairly conservative dresser. But I do love me some flare, that's for sure, but I enjoy it on other people and not for myself. Go figure. Freud could have a field day with me... lol.
Of all the props on the props table, Savannah instantly went for the golden filigree metal nails that Thai belly dancers wear during performances. One couldn't do much more than dance with them on, that's for sure. The nails certainly give this image the little something extra we were aiming for.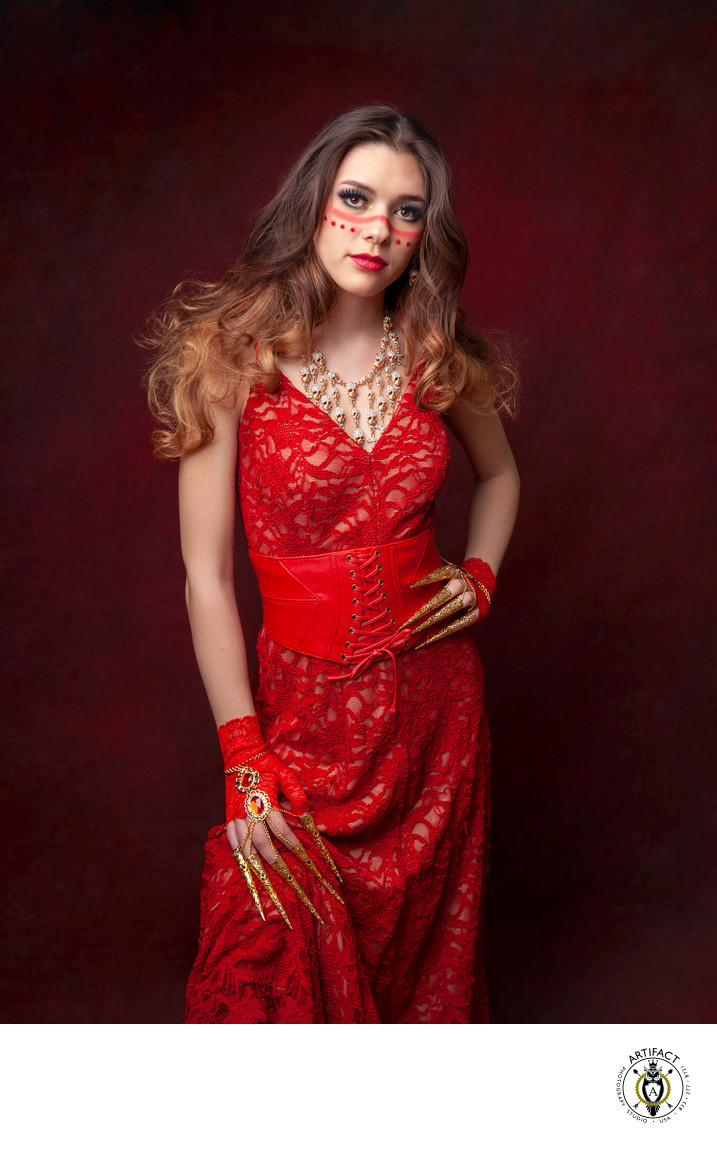 Session Details: Red muslin background | Studio lighting
Make-up: Areli Jones
Hair Styling: Claudia Ratcliffe of Gadabout Salon Spas on Oracle
Studio wardrobe and accessories: red lace gown, red fingerless lace gloves, red corset, rhinestone skull and crosses and matching earrings, and gold tone Thai filigree nails.
Location: Tucson, Arizona.